5 Amazing Innovations Transforming Augmented and Virtual Reality
By CIOAdvisor Apac |
Friday, September 13, 2019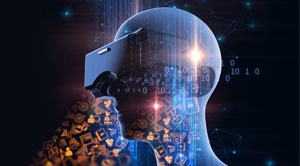 Augmented reality and virtual reality is a boon empowering all humans and revolutionizing their lives with its upcoming breakthroughs.
FREMONT, CA: Today, the industry giants of different sectors are leaping into the augmented reality (AR) and virtual reality (VR) scene in their effort to launch new product lines. With the ability of devices to create more high-quality visuals, both AR and VR are increasingly adopted in all industries, including construction, surveillance, mapping, and healthcare. AR and VR are gaining momentum in the real world, making it clear that both the technologies will overtake other technologies in the next few years. To ensure sophistication, CIOs of different sectors are utilizing these technologies and changing the outlook of our lives.
There is much advancement in the field of AR/VR. However, only a few are meant to transform industries significantly.
Standalone mobile VR devices
Gone are the days when VR devices relied on PC connections made of wires and clunky hardware restricting user's motion from one place to another. As VR undergoes a rapid revolution, it enters the dematerialization stage, and standalone mobile VR devices replace the large devices. Fully autonomous, self-contained systems seem like the future of VR, but so do low-cost, lightweight devices that plug right into phones.
VR devices are available in different forms where there are cheap ones that work with android and ones that need a high-end PC or gaming console and some space to move around. Between those are standalone mobile headsets that are cord-free and don't need any additional external hardware to run.
The well-known standalone VR, Oculus Quest is recognized as the best as they are amazing and immersive having great touch controllers and is designed comfortably for gaming.
Mirrorworlds
Augmented reality is the technology bracing the mirrorworld. Soon every place and thing in the real world—building, room, chair, street—will find its digital twin in the mirrorworld proving that it is not fully existing but sprouting up. Mirrorworld will immerse humans into a new world without actually removing one from that place. It makes the users curious and overwhelmed with its own quirks and surprises melding the real and virtual world.
For now, only glimpses of the mirrorworld are visible through AR headsets. AR headsets should be designed to understand the architecture of the surrounding world to create a mirrorworld and should be made with improved scanning accuracy. For now, the full blossoming of the mirrorworld is waiting for cheap, always-on wearable glasses.
Pokémon Go, a game uniting the people in real action, gives just a hint of this platform's nearly unlimited capability for exploration when people chase cartoon characters in their local parks. Pokémon Go's updated version of a mirrorworld has embraced hundreds of millions of players, in at least 153 countries.
Wide field-of-view AR displays
The old versions of headsets in the AR industry come with a limited rectangular view. The technology that permits increased field of view (FOV) will unlock the gate enabling the device to be used in many applications.
Microsoft's HoloLens 2 is leading the AR industry in display quality and head comfort. Overcoming the issues associated with the previous version, Microsoft implements laser technology to create a microelectromechanical systems (MEMS) display. It positions waveguides in front of the users' eyes, directed by mirrors and eventually images can be enlarged by shifting the angles of the mirrors. HoloLens 2 overhauls its predecessor's FOV by coupling with a 47 pixel per degree resolution.
Meta 2 offers an even wider 90-degree FOV, but requires a cable attachment whereas Magic Leap provides a similar FOV as HoloLens 2 but with lower resolution.
Eye-tracking
For years, eye-tracking has been a part of the VR conversation. Some AR headsets allow eye tracking. Eye movements and microexpressions in natural communication provide valuable insight into a user's emotions and desires.
Companies like Pupil Labs and Tobii provide eye-tracking hardware add-ons and software to VR/AR headsets. This technology allows for foveated rendering, a technique that renders a given scene in high resolution only in the fovea region. This means the graphical fidelity is prioritized on the only tiny portion of the display where the pupil is focused while the peripheral areas appear in lower resolution, conserving processing power.
Forging ahead, VR/AR devices should convey more richly textured interactions between any two people coupled with emotion detecting software as in Affectiva. The HoloLens 2, can also be used to identify users and adjust lens widths to provide a personalized and comfortable experience for each individual.
Role of 5G
AR and VR applications are sensitive to the strength of the network. Obviously, standalone AR/VR devices will require a stable 5G network to operate seamlessly from anywhere across the globe. The lack of a reliable network is one of the reasons for the slow uptake in the mainstream adoption of AR/VR. The onset of 5G will unleash more opportunities created by AR and VR technologies taking them to the next level.
To see the benefits of 5G in AR/VR sooner, Verizon, T-Mobile, and Sprint have already launched 5G networks. Samsung, Huawei, LG, and ZTE have also announced their upcoming 5G devices.
The above mentioned promising trends will transform the market with their extraordinary potential to add value to businesses as well as users.