Artificial Intelligence, New Addition to the Contractor's Digital Toolkit
By CIOAdvisor Apac |
Friday, August 09, 2019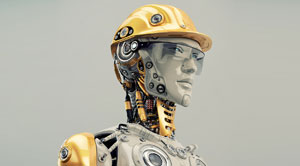 FREMONT, CA: Artificial Intelligence (AI) is considered the next frontier for construction technology. The potential applications of AI are making their ways into the working sites offering a wealth of efficiency and information at the blink of an eye. Artificial intelligence utilizes computer processing to complete tasks that usually require human knowledge. However, it performs actions with a higher level of accuracy and much more quickly. Because of this capability, it is another helpful tool in a contractor's digital toolbox. Read on to know more about the critical applications of AI in the industry.
Data is the core AI, and with data collected from various sources of the construction projects provide valuable learning information for AI applications. It serves as a helpful tool in every phase of a construction project. AI-based applications enable designers to collaborate with computers to come up with a sophisticated design quickly. Designers can utilize AI tools to input different design goals and criteria, as it generates options for designers to select from and edit as per requirement.
AI-based applications that utilize visual processing algorithms are an essential risk monitoring and prevention tool for safety managers. Photos and videos from the job site are analyzed for safety hazards such as missing workers not wearing appropriate safety equipment. Safety managers implement safety monitoring solutions that utilize AI and scan large documents and quickly identify workers and instances that are not compliant with safety protocols.
AI is also considered an asset as workers can input sick days and early departures into a data system and will adapt the project accordingly. AI can understand and notify that task to be moved to another employee. Besides, project managers can use an autonomous device such as drones, sensors, and cameras to monitor job security. AI-based applications utilize data to measure the number of working materials. The learning algorithms track the progress against original plans, budget, and schedule. Project managers can also track labor productivity and make adjustments to keep the project on schedule by making use of progressive information.
The future of AI is becoming a reality within the construction arena, modern builders are planning innovative building designs to thrive ahead.