Big Data: An Essential Ingredient for Digital Transformation
By CIOAdvisor Apac |
Thursday, November 21, 2019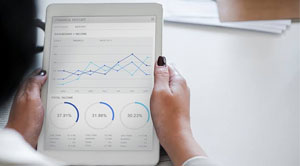 Data is available for organizations from various sources and leveraging the data with big data analytics for insights is essential for digital transformation.
Fremont, CA: Business is a very competitive landscape, and organizations have to distinguish themselves to stay ahead of the competition. Many organizations have started their digital transformation journey by ideating new business model, process, and technology. Owing to this, they are witnessing the power of digital transformation. For companies to make strides in the digital landscape, CIOs are playing a significant role in strategic thinking, improve business outcomes, and set up future plans.
Digital transformation is incomplete without data. Data helps organizations digitize their business-critical processes with the help of its structured, unstructured, or raw nature. CIOs need to harness the potential of big data by implementing big data analytics and quicken the decision-making process. For smart and fast decision-making and real-time execution, businesses need critical insights. Building analytics models based on the available data reveals business insights and helps accomplish strategic business goals.
According to a report by Gartner, 25 percent of the organization will be either a buyer or a seller of data by 2020. Thus, CIOs are focusing on employing big data analytics implementation as a part of their strategic planning to achieve digital transformation. Big data allows businesses to collect raw, structured, or unstructured data from different sources, and with the implementation of big data predictive models and machine learning technologies, predicting customer's behavior is possible. Once the organization has customer behavior insights available, they can optimize their strategy by providing discounts and promotions. Furthermore, businesses can minimize complaints by taking constant feedback.
Today, data is available from several sources like websites, social media, search engines, sensors, gadgets, smartphones, messages, videos, and more. Analysis of the data can present insights into customer habits and activities. Big data analysis can provide in-depth insights from various data sources assisting in defining the overall strategy. Understanding customer behavior can lead to enhancing the customer experience. Analysis of the data can present deliver insights about the customer's feelings and gain their trust emotionally.
Data is a powerful tool for modern-day organizations, and CIOs should utilize this powerful tool to the organization's advantage to determine the potential growth factors. Being data-focused can help organizations achieve their strategic goals and be an ally in their digital transformation journey.
Check This Out: Top Big Data Solution Companies