CIOs Are Resorting to RPA for Making Data Analytics Increasingly Actionable
By CIOAdvisor Apac |
Thursday, October 03, 2019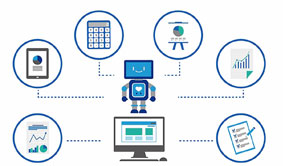 Contemporary CIOs can't merely restrict their activities to enterprise success enablers but have to get involved in almost all aspects of the business. Data analytics would be the best example, and CIOs are resorting to cutting-edge technologies such as AI and RPA for leveraging data in the most effective manner.
Fremont, CA: The recent past has been quite eventful for CIOs as they find themselves at the forefront of business success. Data analytics is the new buzzword for enterprises and technology experts alike across industries and countries. Data and its proper and complete analytics have become an integral part of the present-day CIOs role.
In simpler words, vast amounts of data are received in raw forms and analyzed as per the requirements of an enterprise, and the data thus collected is further relied upon for making critical business decisions. Practical and insightful leveraging of information is essential for the growth of business in the technology world. Today's CIOs have been entrusted with the responsibility of analyzing this data in a precise manner so that they align perfectly with the organizational objectives.
CIOs of today find themselves uniquely placed to enable an entrepreneurial platform, which extends the scope of data analytics tools to meet a wide range of demands from normal users to specialist data scientists.
Many successful enterprises have CIOs leading the team of data experts to develop solutions to highlight the most critical contemporary use cases or innovative ones that extend competitive advantage. Also, leveraging their experience as enablers of technology, CIOs are resorting to emerging and prospective technologies. For instance, more and more CIOs continue to prefer RPA in-depth to streamline data analytics, and other entrepreneurial objectives to, in turn, reduce costs.
RPA has already found acceptance among technology enterprises from around the world. One significant use of RPA is to digitize repetitive tasks. However, RPA can also prove to be critical in wading through excessive amounts of raw data to spot the most relevant information for enterprises.
Why RPA?
As compared to many other existing and new IT solutions, RPA enables automation within a fraction of the previously consumed time and cost. Further, RPA exhibits a non-intrusive nature to leverage existing infrastructure without causing changes to underlying systems. Any fundamental changes might require repair works that are quite expensive and time-consuming. As a result, in today's constantly evolving technological landscape, RPA turns inevitable as a tool to boost compliance and cost efficiency as a result of automation.
RPA excels in the following critical areas when integrated into the process of data analytics. The first one is the capability to cut down big data for making it excessively useful for human controllers. The other is to clean up existing data so that identifying processes to be streamlined becomes an easier task.
RPA has proven to be the best tool when it comes to the requirement of data being excessively precise and correct. RPA is driven by a set of processes and rules and is expected to deliver maximum precision while analyzing the data.
Data analyzed through RPA is immediately available for integrating into critical business decisions. As the downtime becomes less of a concern for robots, a continuously up-to-date data can be achieved.
CIOs as active enablers of RPA-powered data analytics have realized its potential to transform and rationalize an enterprise's workflow. Further, CIOs have also been able to enable superior flexibility and scalability into the data analytics process, which in turn is complemented by the faster and tailored response to precise needs.
RPA is not totally new for the APAC region. It is becoming actively integrated into critical processes such as data analytics in recent years. Singapore and Australia are the countries which lead the recent heavy incorporation of RPA technologies. South Korea, India, Indonesia, Malaysia, Hong Kong, and Thailand are examples of countries that are currently considering adopting the technology on a large scale.
Also, companies which rely on RPA are mostly eliminated from the need to have an outsource or offshore partner, thereby ensuring 100 percent accuracy.
As APAC enterprises realize the advantages of RPA, most of them plan to assign more of their proposed budget to further RPA integration. In the future, say, within about two years, a significant increase is expected in terms of budget allotment for RPA into an organization's process.
As a simple example, online retailers collect massive amounts of data through various sources regarding buying habits of a single or multiple customers. The data thus extracted may contain useful information regarding desired price ranges, product preferences, etc. and so on. Through the use of RPA for connecting data sources, such information is compared with the range of current offerings from the concerned organization. By doing so, enterprises will be able to effectively present selected products and further promotions on such products to the customer.
Further, it is possible through the use of RPA to carry out data analytics on the number of tasks completed by software robots within a specified amount of time.
The results of the analytics of Big Data through RPA turn exponentially precious for businesses when they are acted upon. The valuable insights derived through deep analysis can be used to pinpoint actionable tasks for optimization and improvement. Also, turning huge amounts of raw data into comprehensible patterns for decision-making is paramount to the success of many of the present-day businesses.
It turns easier for enterprises to derive more insights into business patterns, industry trends, customers, and internal workings. Also, it depends heavily on the organization as to how they leverage such actionable insights to redirect the data information for enhancing business accuracy.