Data analytics embellishes businesses by improving the bottom line
By CIOAdvisor Apac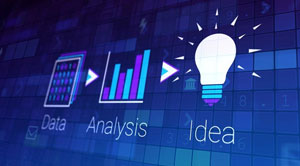 Data analytics is remarkably advancing the business operations. In today's businesses, data analytics plays an intrinsic role in making decisions more scientific and helping the businesses achieve effective operations. Data analytics assures to deliver business insights and high returns. And organizations are now eager to take the advantages of data analytics to reap the rewards. But the businesses, new in the field face some difficulties.
Following are some of the ways how data analytics helps businesses in boosting the bottom line:
Reduces physical inventory: If the business provides physical products to the customers, it has to stock inventory. Inventory ties up cash and prevents a business from using it for other company initiatives. Data analytics helps to determine the amount of inventory of each product a business should stock. It displays data about the number of ordered products each month. Data analytics also provide information about which products are high runners, which have stable order patterns, and which are highly volatile in terms of order qualities. This information helps a business to free up cash and eliminates the risk of running out of stock to fill customer orders.
Helps to get rid of dead products offerings: Product analytics is the area of data analysis which helps businesses to focus on their efforts on the products which generate the maximum of the profit. Data analytics helps to analyze each product's overall contribution to the profit. A product's contribution is a product of the profit margin for each product combined with the volume of the product that is ordered. Analytics is able to show which products are growing the bottom line or which are narrowing it or which are costing more.
Helps to set customer service levels: Generally, a business profit comes from a few, valuable customers. There is also a list of customers in descending order of profit. Analytics provides the analysis which helps to consider how much time and effort the business should spend on which groups of customer.
Improves quality: Quality and customer service make a business distinguishable in the ever-growing competition. The company should deliver products as per the customers' expectations as customers' satisfaction is the key point to make the businesses' reputation. Analytics helps in finding out breaches in the orders if there any.
Data analytics is a valuable tool that assists companies in making better decisions in any area of the organizations. Companies should adopt data analytics skill if they want to flourish in the never-ending race.