E-Commerce Reshaping the Cities
By CIOAdvisor Apac |
Wednesday, May 15, 2019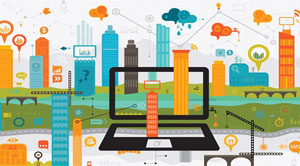 With commerce becoming e-commerce, major changes have been seen in the ways cities are being designed. According to experts, including automated vehicles and drones will drive the efficiencies of the e-commerce industry. Many automobile companies have already started integrating automated vehicles with drones. For instance, Mercedes has designed an automated vehicle with drones that fly high like an aircraft for delivery. With technology reaching every corner, e-commerce industry is chasing automated vehicles and drones to enhance delivery and cost efficiencies.
The utilization of automated vehicles and drones with smaller vehicles can optimize delivery and routing and make effective use of the road space. According to experts, light vehicles will lead to more free space.
With the advent of technology for automated vehicles and drones, organizations are trying to connect it with e-commerce. Customer acceptance and business models are key factors and because of which automation will continue to happen at a faster rate in e-commerce landscape. In addition to the business models and customer acceptance, government regulations also play an important role.
Apart from the urban areas, the non-urban areas will also see a major prospect for automated vehicles and drone delivery in the days to come. Transport links like electric charging infrastructure will go through a drastic change as automated vehicles, drones, and electric charging infrastructure are expected to go hand in hand.
With retail having a solid experiential part, e-commerce is likely to impact physical stores, and the degree to which conventional bricks-and-mortar will move to delivery following in-store shopping, and the suggestions on request, and how and where retail happens in the cities.