E-Invoicing: Facilitating Digital Transformation
By CIOAdvisor Apac |
Tuesday, November 26, 2019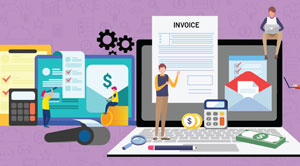 Digital Transformation is mandatory in today's technologically driven era and e-Invoicing is an ideal way to start for organizations that are resistant to change.
Fremont, CA: E-Invoicing can digitalize an organization's financial processes and help in achieving digital transformation. In Europe, technical developments and the new legal requirements are driving the adoption of electronic invoicing. Thanks to the adoption of reliable standards, the implementation of e-invoicing has a lot easier, and the ROI is achieved shortly. It is not necessary to implement the change at one go as it can be done step-by-step without disruption of all the processes and infrastructure in the company. Moreover, a correct approach from the beginning can result in positive effects on efficiency and cost savings. However, if an organization takes a shortcut and follows an unstructured format of e-Invoicing, such as emails over data transfer between ERP systems will be deprived of the full benefits of electronic processes. A proper e-invoice structured data can help optimize the entire digital supply chain.
Structured data in e-Invoicing enables automation in purchase invoice processing, and it also facilitates integrative and holistic links with other process steps in the source-to-pay chain. Implementing automation in the source-to-pay process can positively affect the working capital balance sheet. Similarly, order-to-cash automation can manage a company's customer data and send their invoices on time.
Organizations that are resistant to change can start the digital transformation with e-Invoicing as it is the ideal way to begin. E-Invoicing makes all the stakeholders take a holistic view of the source to the payment process. Organizations with traditional corporate structure can break the departmental borders with active participation from CFO, CPO, CIO, and the Treasurer to achieve their common goals of control, cost reduction, and compliance.
Engaging in e-Invoicing changes the way a company cooperates with its partners and acts within markets. The success of digitalization does not depend on the performance of a single company but the entire network as a whole. If implemented holistically, e-Invoicing can bring the benefits of automation in the whole digital supply chain. The successful integration of partners, suppliers, and customers can make the organization increasingly agile in meeting the requirements of the future. In the modern era, digital transformation is essential, and e-Invoicing is an ideal way to begin.