How AI Implementation has Become Essential in Businesses
By CIOAdvisor Apac |
Thursday, May 16, 2019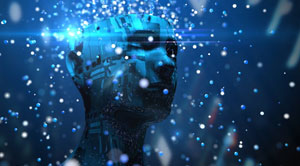 Artificial Intelligence (AI) has evolved into something much more than a tech buzzword. AI, and particularly machine learning, are already widely embraced across the spectrum of companies and organizations. They help companies to produce better products and services using an ongoing customer behavior and data feedback loop which can help machines to learn faster than ever before.
Compared to traditional marketing methods, AI has significantly changed the revenue implications in competitive industries and considered as a first-mover advantage. Machine Learning can improve internal business processes such as credit rating assessments and CRM. For example, banks use AI to assess potential customers creditworthiness using machines that have learned from the previous data which consists of thousands of customer's transactions.
Artificial Intelligence has been a game changer in gathering critical data, but it comes at a cost. It takes much time and more money to code AI and also to build predictive and analytical models. This is where automated Machine Learning (ML) comes into existence which involves multiple tasks from selection and engineering, trawling through various possible algorithms to generate the final evaluation and comparison results.
The use of ML allows companies to identify and retain qualified data with a rapid and automated process that can scale the delivery of AI. Automation, conversational bots, filtering and data analysis are some of the powerful tools that businesses can take advantage of to transform their customer service and employee effectiveness. Additionally, enterprises can program their AI devices with unique capabilities, further enhancing the technology rewards to be reaped. This optimization of performance gives organizations the most considerable advantage over a large number of competitors.
A final argument for why businesses need to adapt AI is related to data transparency when dealing with customers. Ensuring data safety has become the biggest concern for most of the financial agencies as cyber attacks have been growing exponentially. Automated machine learning includes an explanation of its model and feature, which provides data transparency and can face more stringent regulatory requirements.