How are AI and ML Contributing to Cybersecurity
By CIOAdvisor Apac |
Tuesday, December 04, 2018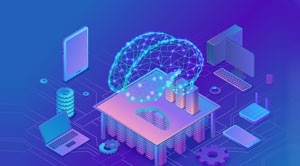 The digital revolution has escalated to such an extent the development in the field of IT is happening at a rapid pace. Gone is the time when the only competition of human was human himself, the world has progressed to a level where the race is amid the man and the machines. With the technological innovations, the security of the data has also become a subject of concern, and it is an accepted fact that the future of cybersecurity will be even stringent.
Artificial Intelligence and Machine Learning
Artificial Intelligence can be a massive help in detecting and fighting cybersecurity, as with the help of AI, security teams can automate a significant part of their workload, which will give more time to emphasize on developing new defense strategies and to fight hackers proactively.
As cyber threats are continually rising, regular security solutions fail to fight the latest risks. Hence, tools that rely on machine learning play a vital role in cybersecurity as they have the knowledge and abilities that are essential to identify and analyze the threat and find the best possible solution for the same. Therefore, incorporating machine learning into the existing systems can help in building a strong defense against new generations of cyber attacks. AI is continuing to grow at a rapid pace, and the credit goes to the increased volumes of data and modern algorithms. AI has revolutionized almost every industry.
Machine learning is nothing but a subset of AI that helps the system to automatically enhance and learn from its experience without being programmed explicitly. It has gained prominence because of its offering in self-driving cars and also Facebook's news feed.
AI and ML- Future of Cybersecurity
The concept of AI has improvised, and there is an increase in its adoption. Businesses are investing in AI, and the future goal is to develop human-like AI. Therefore, AI is using the technique of shrinking the attack surface rather than chasing cyber threats with the purpose of enforcing cybersecurity. Although there was a disagreement that occurred over the efficiency of AI in cybersecurity, now it's said that AI is much smarter and faster than any technologies. These technologies are further assisting IT security professionals in securing their environment against the ever evolving threatening landscape. AI is a powerful tool and can be used for improving security.