How Are AR and VR Contributing to Improve Safety Measures in Transport Sector
By CIOAdvisor Apac |
Friday, November 30, 2018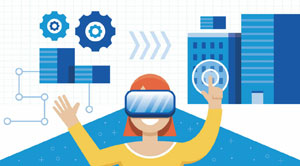 Augmented Reality (AR) and Virtual Reality (VR) have gained prominence in the last decade, and these technologies are rapidly finding applications in all aspects of our lives specifically in the transportation sector. Both the innovations are booming, and the future is expected to be more three dimensional thereby reducing or eliminating the need for computers, phones, and tablets. From aviation to video games, defense, shopping are transforming the way an industry operates.
Health and safety are most important in the transportation sector; therefore increased use of AR and VR can reduce the number of accidents and injuries that occur. Listed below are some features of AR and VR that will help in improving health and safety in the transport sector.
• Classroom Training
Virtual reality could be one significant step in classroom training, combining real-life learning with added benefits of a controlled environment. Logistics companies are already using virtual reality to train its drivers to understand and identify road hazards in a classroom environment.
To provide a better learning experience to the individuals, they are given VR headsets through which vivid real-world simulations are created. With these headsets, users have a 360-degree view of a realistic simulated environment which includes sounds and hazards thereby preparing users for real-world happenings.
• Preparing for the worst
The aviation industry has been using simulation training for decades now, enabling pilots to clock up flight hours, test their abilities, and practice emergencies in a safe and controlled environment. This training helps pilots in boosting their confidence and the skies safer.
As innovation advances the costs decreases, it will be more viable to adopt a fully immersive VR that can be applied to training within the fleet and broader logistics sector. The perks of enhancing the health and safety outcomes will be immense, as simulations that will be able to represent real-world forces, collisions, and physics and in fact weather will allow drivers to prepare for the worst in a completely safe environment. The objective of VR is to train the brain that it was a real-life experience.
• Integrated Technology
Apart from virtual reality, Augmented Reality (AR) has also marked its place in the market. Many vehicle manufacturers are integrating information such as GPS, fuel, and speed into the display on the vehicle's windscreen. Other integrations such as video calling, traffic alerts, and obstacle detection are other possible options for this technology. Further advancement in this technology can help a keep track of the vehicle that is on the road, how fast other cars are traveling and other warnings for collisions.
AR and VR are promising technologies and are helping in improving the health and safety in the transport sector.