How Artificial Intelligence is Influencing Finance Sector
By CIOAdvisor Apac |
Friday, November 15, 2019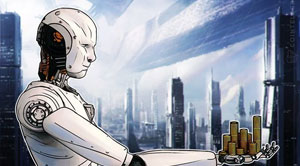 Data and analytics today encourage industries to work at a faster pace of innovation. Financial companies are also following the trend to be more innovative in targeting, expanding services, re-configuring delivery channels, and integrating payments.
Artificial intelligence (AI) and its algorithms can facilitate the making of critical decisions by machines in the financial sector. The combination of data science, machine learning tools, and platforms are fuelling the digital transformation in the financial sector. Following are some of the applications of AI that can leverage the finance industry:
Personalizing financial services: The combination of big data and machine learning powered devices can raise customer services to a new level of comfortability. They support financial organizations digitally in meeting customer satisfaction with cash transfer, cards management, or bills payments. Also, chatbots provide financial guidance to the clients through voice and text messages throughout a day.
Reducing cost: AI helps financial enterprises with the incorporation of automated computers that can help in reducing costs and time. Also, bots help to perform specific tasks automatically as auto responding to the data request. The technologies speed up the total process time and induce changes cutting on the time required to prepare manual reports.
Detecting frauds: AI aids finance teams to detect frauds. Frauds and scams have started to use advanced tactics but AI has stopped it. The intelligent technologies support to recognize the factors involved in frauds and help investigation teams. They develop a unique approach to understand transactions in crucial aspects to identify deceits.
Generating insights: AI-based automation enables the team to evaluate system-generated forecasts. Automation allows decision-makers to make recommendations to address issues in the organizations.
Assisting with Voice Search: Nowadays the use of smart speakers is on the rise, and the financial industry is also tending to use it in customer services. Some advance finance teams have already begun to perform their tests with voice searching techniques.
See Also: