How Businesses Can Benefit from Mobile Applications?
By CIOAdvisor Apac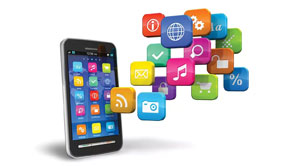 Mobile applications have simplified living with just a click. From money transaction to grocery shopping, mobile apps have transformed the fundamentals of businesses and has facilitated advancements in the marketing arena. Below mentioned are a few transformative effects by the mobile applications.
• Extraordinary Efficiency
With intuitive mobile apps, the consumer response times are usually immediate. The process of alluring consumers has enhanced with the introduction of interactive interfaces. Time-consuming processes are now instantaneously handled. Money transactions were once a significant source of financial lag, but mobile applications have resolved this issue.
• Encourages Connections
As it allows direct communication, applications that rely on wireless networks eliminate the chance of missing any interested customer. Materials that are time-sensitive can now be delivered for access in real-time. This speed further helps business professionals and their clients in the long run.
• Personalized Messages and Rewards
Mobile applications are perfect for sending customized messages to clients to enhance their experience. Coupons and rewards are effortlessly distributed for active participation of clients, which increases the productivity of the businesses gradually.
• Showcasing Modernity
Building a successful and interactive application leads to the appearance of cutting-edge gadgetry. In the realm of virtual outreach, brands with a higher significance will be valued. Therefore, it becomes crucial for companies to differentiate themselves from their competitors since the threat of obsolescence will always be there. However, being advanced and fully up-to-date with all technologies provides a productive relationship with the clients and for the company's success.
Mobile applications are changing the way business is done by adjusting to the budgets, hiring good talent or adding a dose of innovation to the workplace. It acts as a vital communication tool to reach audiences near and far, with a swipe of a finger. Organizations all around the globe are adopting the app revolution, and IT professionals are also preparing for the new expectations this shift will bring.