How Can CIOs Harness VR to Enhance Business Efficiency?
By CIOAdvisor Apac |
Wednesday, November 06, 2019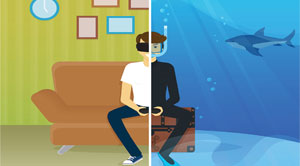 In the near future, Virtual Reality (VR) is anticipated to be a crucial innovation. Aside from the gaming sector, it is likewise entering the business field. What sort of business advantages would it be able to offer?
FREMONT, CA: Today, we see organizations overall incorporating cutting edge innovations for upgrading the profitability of their business and keeping up the pace in the market. Because high-tech companies such as Apple, Google, HTC, etc. have introduced their own Virtual Reality (VR) apps, competition for these products and services is strong. VR is as of now being seen in various applications in different enterprises and spaces.
VR isn't constrained to one zone or vertical. It has already expanded its subsidiaries in different sectors, including tourism, education, and infrastructure. VR is not only confined to headsets and gaming, but it has a real business value as well. Nowadays, ventures are coming up with new and innovative methods to incorporate VR into their everyday business forms and be increasingly beneficial and productive. The following is the rundown of the advantages that VR can offer a business and the effect it will have.
1. Less business travel and profitable conferences
Any technology that helps to reduce the gap between travel and communication will radically transform organizations. Prior, the ventures used to have distributed teams that were viewed as redundant due to high business travel costs. VR has, however, helped companies bridge the gap between advanced technology and infrastructure. It has helped organizations to host online meetings involving multiple teams around the globe effectively.
2. Gives a competitive edge to business
VR has empowered organizations to confidentially and conveniently create a virtual store, which is far more convenient than setting up a store physically. The technology provides companies with the luxury of using VR technology to facilitate the advertising process and also to plan the store in complete secrecy. It, therefore, gives the company a competitive edge over others.
3. The future of retail will be splendid
VR will empower the organizations to put resources into complete innovative work to identify numerous social, utilization, and social patterns of the customers. Besides, it will likewise assist the companies with obtaining exact industry forecasts. Therefore, VR will significantly affect the future of retail as it enables the enterprises to fathom client behavior and product utilization patterns in various scenarios.
4. A significant tool in training
Proficient business trainers will soon be utilizing VR widely in the upcoming years. The remarkable nature of VR empowers the users to have a look around the room and interact with the individuals who are on the web. The coaches can also hold live training workshops or meetings in addition to live training sessions, which helps to make the training bouts more engaging.
5. Offering virtual tours will be possible
One of VR's biggest advantages for the industry is the ability to offer multi-location virtual tours. This function is incredibly rewarding in the real estate sector as it helps real estate agents and property owners to take their customers on a virtual tour of their estate, thus allowing them to envision the architectural plan before making informed decisions properly. The VR furnishes the customers with a 3-dimensional view of the estate they wish to purchase or rent.
6. Product prototyping at a new level
With the assistance of VR, organizations will have the option to envision and structure their items in a superior manner. With the coming of VR, it is possible to specifically design the item being created, evaluate its functionality, and even make changes in it if necessary before sending it to the production house. What's more, VR will likewise empower the organization's leaders and the end-clients of the item to give useful feedback, which can be introduced into the item in the essential phases of improvement. From now on, it is useful to recognize the structure issues rapidly and manage it sooner so that post-production pitfalls can be prevented.
7. Transformation in e-commerce advertising
In addition to industries such as games and movies where VR is expected to flourish, e-commerce will be the only field in which companies can harness VR to reap tremendous business benefits. Nonetheless, many uncharted e-commerce regions need to be identified by the companies in order to obtain maximum benefits from them. VR can make it possible by leveraging the customers the whole new way to shop on online websites. VR will also play a key role in the procurement process.
8. Easy to interview applicants
VR's new applications support the department of Human Resources (HR) in interviewing the applicants who have applied for the position. The VR applications will empower them to interview applicants from numerous regions in a virtual conference room. VR enhances the interviewer's interpretation of the candidate's response and body language. Giant companies can even create remote workplaces for applicants to utilize the infrastructure and engage in discussions or interviews.
9. Virtual meetings and conferences
Allocating all the participants scattered around the globe and hold meetings with them is challenging. The dysfunctional meetings can lead to a high level of confusion and lack of communication that can adversely affect the business. VR has settled this issue and made meetings and conferences much more immersive and enjoyable.
10. Savvy virtual designing of structure for better task representation
VR is a boon for architects, engineers, and other professionals involved in architectural planning as they can clearly imagine the structure they build. This helps spare a ton of time and cash, which would otherwise be spent on making 2-D renders or smaller versions. In this way, VR support companies to achieve substantial growth by using vivid 2D technologies to model systems.
Seeing the consistent expansion of VR technology development, it has been estimated that 33% of the total consumers worldwide will utilize VR by 2020. With more individuals approaching these advances, enterprises will most likely pursue by offering VR-powered products and services.