How digital Identity Holds the Key for Open banking System's Success
By CIOAdvisor Apac |
Thursday, January 10, 2019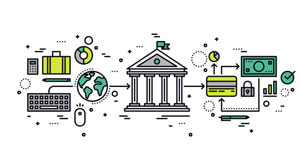 Online fraud is the biggest concern for the banking system today. Digital identity is a way for banks to protect their customers against fraud online. It allows an individual to access and authenticate their personal information and details of a transaction. Digital identity only allows an authorized person or third party to have access over the stored information.
Data security becomes the most significant priority as the banks have begun to share a customer's financial data with other authorized vendors. In the wake of these recent developments, the European Banking Authority (EBA) released new guidelines on open banking systems. Once the banks receive authorization from their customers, they can act on behalf of them. Companies using the personal data of a customer need to adhere to a strong customer authentication and authorization requirement.
The open banking system is a step forward for banking systems as it has a wide array of implications. It provides its customers with easier ways to manage their financial data as well as transact securely. The open banking system follows the PSD2 payment service directive, which is a transparent system that allows banks, customer, and third parties to transact more securely. The main focus of this system is to create an integrated internal market for electronic payments within financial institutions to promote the use of innovative online and mobile payments through open banking. Open banking also allows its customers to have better control over their funds and an ability to manage their accounts with different service providers.
Digital identity holds the key to the success of open banking. The primary objective of the second payment service directive is to create a better-integrated internal market for online payments. It requires standardized open APIs, through which customer account and payment data can be shared securely. Data integration is an essential factor for integrated internal marketing, which is possible through automation and digitalization of identity. Open banking system needs to provide a secure and trustworthy API with Strong Customer Authentication (SCA) to comply with a bank's requirement.