How is AR/VR Favorable for the Business Success?
By CIOAdvisor Apac |
Friday, April 05, 2019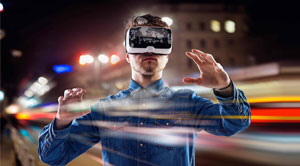 The gradual dominance of Augmented Reality and Virtual Reality (VR) due to creating interesting user experiences is surpassing expectations of everyone. The dynamic-duo is setting the standards of customer experiences high which in turn are benefitting the businesses. The technology is helping in increasing brand engagement and generating unique ways to interact with the services and products. If companies haven't adopted this technology yet, they must implement it soon.
1. Revolutionize Product Testing Methodology
Enterprises are now building the AR/VR system that enables customers to use any product in a virtual setting helping them in the buyer journey. This methodology is convenient for businesses as it saves money invested in test products and samples. In industries like retail, automotive, construction and education, brands are using AR/VR technology to give customers trials. In this way, customers can develop a stronger bond with the brand and with the product or service in the virtual environment.
Check out CIO Advisor APAC's Top 10 AR/VR Technology Solution Providers - 7DX, 7e Systems, VRTY,...
2. Immersive User Experience
Implementing AR/VR technologies into companies or website can give an unforgettable experience to its users which will force them to do the word-of-mouth publicity for a particular brand. A simple virtual tour can be enough to increase clicks and decrease bounce rates. Companies can create a customized user experience based on the latter's previous shopping habits.
3. Personalize the employee experience
Personalization can help businesses to grow as brands can now discover the benefits of tailoring the user experience to achieve greater engagement. Customization is also valuable in some other domain, and that is- employee experience. AR/VR also provides personalized learning experiences to employees who potentially boosts productivity and cuts Human Resource costs.
4. Millennial Audience
Millennial is considered the most critical consumer type and is also unique in terms of what and how they respond to branding and advertisements. They are the digitally-savvy generation, and companies that keep this in mind tend to excel. The young generation loves technology and always welcomes innovation and experiences that are exciting.
5. Stand out from the competition
One essential criterion that organizations must follow is that AR/VR should neither be complex nor or too much sophisticated. Since the technology is new, chances are less that brands have taken full advantage of using it; gaining a competitive edge is all about doing something which isn't seen before. Involve the team or the employees or may be an outsourced provider to come up with a fun and brilliant idea; the creative possibilities are endless.