Improving Interaction with Chatbots
By CIOAdvisor Apac |
Tuesday, April 30, 2019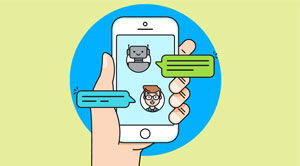 Customer-led industries are leveraging technologies, like chatbots because of the increasing number of current and potential consumers. Businesses are attempting to improve the overall customer experience (CX) by identifying and solving the problems via chatbots. Analyst houses such as Gartner, Forrester, and Ovum CX reports help executives implement the most suitable new technologies in the industry. Conventional chatbots are easy to deploy, scalable, and cost-effective but consumers criticize the bulky and outdated nature of traditional chatbots. These obsolete chatbots have to be asked the same question using different words still they give wrong answers or answer in an inappropriate context. They are also unable to act beyond providing a simple response, leading to demands for more human interaction.
Greater access to data and cognitive machine learning will help increase the power and flexibility of chatbot performance. Also, increasing chatbot autonomy will enable them to execute more complex tasks with personalization. The application of the conversational user interface (UI) will allow businesses to train chatbots from existing data, resulting in new and improved CX.
Chatbot Tech Companies: MoneyBrain, Talla, Wysdom.AI
The future holds the promise of chatbots helping our shopping experience by remembering our choices, purchase history, and questions we have raised previously, allowing them to make sophisticated shopping recommendations. In the case of health care, the increasing intelligence of chatbots will help us track appointments; receive tailored advice to address developing conditions, and more. Chatbots with 24/7 customer service is leveraging natural language processing and ML. They can reduce wait times, solve issues faster, and reduce manual tasks, enabling customers to save money, make payments, manage spending habits, check account balances, and receive personalized banking advice right at home.
The Chatbot is a valuable tool to enhance customer service and satisfaction. Especially with our interaction with mobile devices through voice and engagement with digital assistants on the rise, chatbots are seen as the future gatekeepers of the CX in any industry.
Check this out: Top Chatbot Tech Companies