Injecting Technology to Schools: Challenges and Solutions
By CIOAdvisor Apac |
Tuesday, March 26, 2019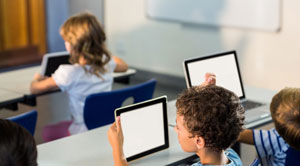 The global education market has witnessed a dramatic shift due to the inclusion of technological advancements, and technology has paved the way for better and cost-effective education. Off-campus courses and edtech apps have contributed a lot to the process of digitalization of education sector. A report from Research and Markets predicted that the education technology market would envision a growth of 15.4 percent from 2018 to 2024. The U.S. Department of Education has mentioned the introduction of virtual schools such as the Florida Virtual School, Utah Electronic High School, and North California Virtual High School. These schools play a vital role to break the conventional notion of education.
The use of mobile devices in the classroom is still a debated issue, but researchers have pointed toward different benevolent influences of mobile devices. According to research by Pew, 73 percent of Advanced Placement and National Writing Project teachers believe that their students use mobile devices to complete their assignments. The proper use of mobile devices can enhance classroom equity on a large scale and can increase the self-learning and problem-solving skills of students.
Key Education Technology Companies: Franciscan Solutions Pvt. Ltd, EduMaxi, Blackboard
This use of mobile devices and technology in school increases the chance of accessing non-academic sites. A study which was carried out at Michigan State University to watch the traits of digital distraction revealed that students spent one-third of their time to loiter in non-academic sites during an introductory class of Psychology. So, the institutions have to undertake proper technological measures to redress this tendency of the students. For example, NetRef's solutions enable the teachers and the administrators to put a brake on the problem of digital distraction. These solutions enable the school authority to have real-time vigilance, allow the teachers to block certain websites and empower to form a whitelist, a list of sites that the students will be able to approach.
The inclusion of technology in education is the future, and the proper integration of schools and educational technology companies is extremely beneficial to the students. Besides these benevolent aspects, this collaboration may lead to some problems which have to be firmly addressed. Otherwise, the aim of injecting technology to schools will be hampered.
Check out: Top EdTech Companies