Leveraging Data Analytics the Right Way
By CIOAdvisor Apac |
Wednesday, March 27, 2019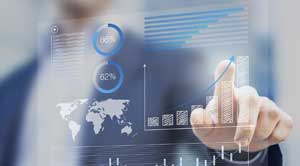 Companies need to know that data can become gold only when it is processed well. The magic lies in packing the data. If the data is well packed, it becomes an asset for the company, and the company can gain a competitive advantage. But, if the data is not properly packed, then it becomes a non-performing asset, depriving company revenue. Companies need to be vigilant in choosing the data by keeping several elements in mind.
When companies dwell into the data more, they chalk a different strategy for themselves. Companies should not become slaves of KPI; they should consider picking up the phone and making inquiries with the right person. Companies need to ensure that data will make sense when the diagrams that are drawn on the whiteboard in the meeting is implemented rather than look blankly at it. Companies need to consider the samples that they find since sampling can be biased deliberately to get expected results. A company needs to consider the size of the sample that is interpreted.
Check Out This: Top 10 APAC Data Analytics Solution Providers
When an analytical project is considered, a project team must be familiar with the company and have a sound knowledge of statistical principles. Also, the company needs to ring-fence and risk assess the data which is not included in the packaging. The company also needs to consider as the project progresses each of the algorithms that are coded must be reviewed, tested, and 'dry run' before moving into production. It needs to be watchful that the documentation must be comprehensive and clearly describe the outcome.
The only reality for any analytical flavor is the need to rely on historical data; it does not matter whether the analytics are descriptive or predictive or prescriptive. The new oil is the data. Unless correctly processed, oil itself cannot run an automobile.
Data Analytics Solution Providers: SIFT Analytics Group, WellteQ, Zetaris