Meeting the Increasing Demand of IT Talent
By CIOAdvisor Apac |
Tuesday, October 22, 2019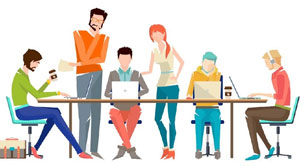 According to the diversification of the organizational operations and needs, the demand for IT graduates has increased and to meet that demand, collaboration is the key.
Fremont, CA: The demand for technology graduates will rise drastically in the coming years. According to a report by Deloitte Access Economics ACS Australia's Digital Pulse 2019, Australian universities produce fewer than 6,000 technology graduates per year. However, by 2024, more than 160,000 ICT qualifications will be needed to meet the rising demand. IDC's forecast shows that in Australia alone, more than 79,000 new jobs will be created in Salesforce's ecosystem of customers and partners by 2022. Evidently, the gap between tech graduate numbers and forecast demand is too high, and IT leaders admit that recruiting IT talent is tough in the current market condition.
The diversification of an organization's operation has created a need for a broader talent pool. The organizations have developed a different image of the Salesforce ecosystem and what it can offer them in their endless drive to be closer to their customers. Even the customer's understanding of the capabilities of Salesforce has evolved, and they have embraced the potential of the Salesforce Customer Success Platform. With this shift in the market, the requirement of more people with a greater understanding of the unique demand of each department has increased.
Salesforce, in association with the University of South Whales (UNSW), held a Marketing Cloud Boot Camp where the UNSW graduates from business, marketing, advertising, and computer science attended the camp and learned valuable and practical real-world skills. To bridge the skill gap even further, Salesforce has also partnered with 23 universities and several Technology and Further Education (TAFE) colleges to run Boot Camps. In total, Salesforce is working with more than 50 educational institutions. Hence, the company is witnessing graduates with legal, economics, and agricultural degrees using Salesforce certifications to find work in areas they might not have studied for.
Salesforce is closely working with their Customer Success Group (CSG) and deploying the knowledge gathered from thousands of implementations as well as its specialist skills to assist their partners in providing the very best consulting services and customer experience. Coming back to the students attending the Boot Camps, there is a possibility of adding new job-ready skills and walking into a level of employment they probably hadn't considered. It breaks the status quo for the students and encourages them to find jobs outside of their traditional degrees, which offers a student more choices and relevance for the universities.