Narrowing the Gap between Operations and DevOps
By CIOAdvisor Apac |
Thursday, August 22, 2019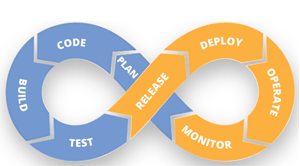 A transition to a successful DevOps culture is the formation of cross-functional and multi-dimensional teams that brings together members from different fields like development, testing, users, architecture, UI/UX and operations.
All these disciplines have embraced their roles and participation in the newly formed team except operations or Ops. This reluctance is majorly due to the DevOps and Agile practices which focus on increasing the deployment velocity, which results in a more rapidly changing production environment which is contrary to what Ops offer- a stable and reliable environment on which the application stack can reliably operate. Therefore, the right DevOps posture demands a full and enthusiastic operation by Ops to run successfully.
A few measures that alleviate the fears and uncertainty and helps Ops better understand their role in the

DevOps framework

:
• DevOps in organizational structure
The decision-makers need to plan where their organization is going and why are they considering DevOps. Management needs to articulate the road map and analyze how adopting this approach would make a difference to them. This must include the economic and technical benefits the organization expects while taking this direction and anticipating the changes in the organization and Ops' role in the new framework.
Check out Top DevOps Consulting/Services Companies
• Communication is crucial
Communicating the message to the employees is crucial. The management usually overburdens the employees and tends to forget about their daily responsibilities which are the priority. Therefore, if management wants Ops to understand the reason for moving to a DevOps posture and the importance of Ops participating, then the message should be communicated regularly. The consistent cadence of information not only reinforces the message but emphasizes to Ops their importance to management and the organization.
• Role of Ops is evolving
As the world is changing, the Ops' role needs to evolve. Maintaining heating, ventilation, and air conditioning (HVAC) and power along with hardware, software, and networking are something that belongs to the past. Ops got to learn to adapt or risk being replaced by others who can and learn to supply worth during this new role.