Technological Trends That Will Bring Transformation in 2018
By CIOAdvisor Apac |
Friday, November 30, 2018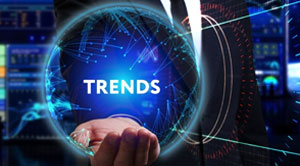 Technological trends are on the rise and are upgrading like never before. Each day we are witnessing a new technology entering the market and advancing lives a little more. The adoption of technology varies for firms depending upon their business type, and therefore awareness of technology trends play a significant role.
Let's have a look at seven technology trends that have dominated 2018.
1. Artificial Intelligence
Big firms are investing in AI to improve the productivity and for practical reasons for their organization's growth. It's gaining more popularity because of its applications in almost all the fields. Moreover, it gives the convenience for a machine to communicate with the users and also aids humans by reducing their workload.
2. Internet Of Things (IoT)
IoT refers to the ever-growing network of physical objects that incorporates an IP address for internet connectivity and communication that occurs between either machine and human or machine to machine as well.
3. Augmented Reality
AR is providing interactive experiences of the real-world environment, and is continuously and quickly gaining significance and is useful in various applications too. It is welcomed in almost all the industries like manufacturing, healthcare, education, fashion retail, travel, and construction also.
4. 5G Preparation
With the end of 2019, the possibilities of discovering a 5g network in some places are possible, but it will work only with the 5G handset. The speed of the 5G internet is expected to be ten times higher than the 4G network.
5. Increased use of mobile devices for Enterprise mobility and Micro-Moments
Proximity should not be a barrier anymore. Therefore, enterprise mobility refers to the use of mobile phones for the business purposes to be carried out anytime and anywhere thereby increasing the productivity of an organization more efficiently.
Micro-moments refers to the general tasks which a user does like searching, messaging, purchasing and so on.
6. Blockchain
Popularized with Cryptocurrencies, Blockchain gained its significance due to the safe and secure transaction it provides. But now blockchain is used in other industries like financial institutions, stock exchanges, IoT and many others.
7. Software As A Service (SAAS)
Based on subscription, SAAS is a host as a piece of cloud innovation by an outsider. It saves heaps of cash which are spent on hardware and up-gradation. SAAS gives bunches of territories of research like security, accessibility, and execution in huge organizations like Salesforce, Microsoft, Google, Amazon and numerous different organizations.
Consistently there are numerous advancements which are in trend and dominate however these are seven innovation trends that have overwhelmed 2018.