The Growing Battle: E-commerce & AI vs. Retail
By CIOAdvisor Apac |
Tuesday, May 14, 2019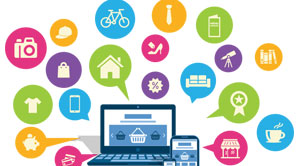 If we talk about the e-commerce sector today, smartphones have left an indelible impact on its growth. Some of the market adepts even opine that e-commerce has been a crucial factor for the decline of retail market while others are still hopeful of retail standing a chance against e-commerce. From consumers' point of view, advancements in technology have provided them several viable options for purchasing such as buying grocery items using smartphones. The most intriguing features rendered by e-commerce grocery store are the Home Delivery (HD) and Click and Collect (CnC). With HD, customers can visit the seller's app and add items to the cart for purchasing. After payment through a virtual card, the shopped grocery items are then delivered to the consumer. Consumers don't have to visit any retail shop as they can purchase items sitting at their home. Using CnC, customers can select and add items on the grocery app builder and then collect it from the nearest operating online e-commerce grocery store. CnC proffers a feasible option of shopping as consumers don't have to spend much time to collect all their items.
Also, the proliferation of AI has played a tremendous role in the e-commerce sector. For example, in the automobile market, BMW is delivering a personalized experience to its customers leveraging augmented reality. The firm uses Google's Tango app to consumers and makes them experience how the car will look with plush seat covers, and steering wheels in their garage.
Moreover, in the times to come, it will be interesting to see how the competition unfolds between e-commerce and retail. However, maybe the impact e-commerce is here to stay long. And if the retail market doesn't develop over time, it may soon find its way to oblivion.