The Realities of AI in Education Technology
By CIOAdvisor Apac |
Tuesday, December 11, 2018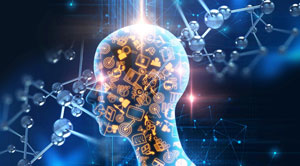 Education technology or EdTech is a study and practice for facilitating learning and improving performance by creating, managing and using appropriate technological resources. The application tools include software, hardware, processes intended to promote education. It covers several domains including learning theory, computer based training, online learning etc.
The advancements in artificial intelligence (AI) is making the world of academia a more personalized and convenient one. Students aren't the only beneficiaries of AI advanced education but teachers and educational organizations themselves.AI powered education technologies enables speeding up of administrative tasks and reducing the time spent on tedious tasks. Here are four ways AI is changing the educational industry.
1. Providing adaptive learning solutions: In this, technology is used to assign digital resources to learners based on unique requirements and the pace of learning is adjusted to meet individual needs because each individual has their own learning capacity. AI algorithms can identify patterns in the learning process and rework the program to better fit with the needs.
2. Adopting deep learning: Deep learning is one of the approaches of machine learning. It enables software applications to develop intelligence so that they are able to adapt and improve on their own according to fit present requirements. Automatically optimized course content, unique customized course content for each student, highly interactive learning experience are some advancements that deep learning can offer.
3. Developing tools to aid collaborative learning: Collaborative learning involves assigning a group of students to accomplish a single project. AI facilitates a better collaboration. AI systems are trained to recognize effective collaboration strategies, which information can be used to identify which group of students is most encountering difficulties and can provide timely support. It supports educators too.
4. Freeing up time for classroom discussions: Trainers are able to save time for classroom discussions because scheduling, data handling, evaluation etc are already performed with the help of Ed Tech tools.
Apart from these major applications, AI-driven EdTech can also provide helpful feedback for both students and educators which ultimately will help in overall improvement.