Three Reasons to Adopt Modern Innovations for Construction Firms
By CIOAdvisor Apac |
Monday, December 17, 2018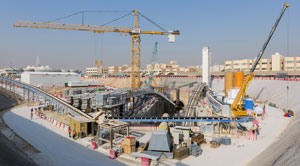 Advancement in the technological field is enhancing safety, reducing costs and welcoming innovation in the construction sector. Innovations like AI, IoT, and AR are making a significant impact on industrial processes and have proven themselves in transforming the construction industry from planning infrastructure to surveying risk management to monitoring the framework during the creation process.
The rising demands to deliver strong industrial, educational, nursing and other infrastructure projects, within the time allotted has become a concern for the stakeholders. Shortage of labor, weather conditions, constant worker demands are several issues that are obstructing this industry to grow. With the advent of various technologies, the revenue health of organizations has been improved, helping stakeholders to meet the rising construction demands with a high level of accuracy. Moreover, the construction industry has understood the importance of modern-age technologies.
• Artificial Intelligence
AI assists the engineers, architects and project managers to build the blueprint of the structure of the construction industry collaboratively. Inputting required data will help the stakeholders to be involved in the construction project and get the suggestions in real-time. Moreover, the introduction of robots has replaced the shortage of skilled labors. The can perform tasks like transporting heavy materials, assembling required documents and so on. Well, capitalizing on drones can help construction firms to monitor the projects in real-time and through this project managers can keep a check on the quality of work.
• Augmented Reality
The potential of Augmented Reality to impose objects in the real world environment virtually helps architects to view the design before being constructed. This further assists architects, project managers, and structural engineers to digitally manipulate the model to match their needs. Apart from visualization, managers can walk through a sensor-enabled construction site wearing AR headsets, move their head in all directions and detect any potential issues.
• Internet of Things
Cameras, sensors, and actuators embedded on the construction site will help in gathering a massive amount of data on workers, machinery, and materials. Also, with the use of IoT connected devices, construction firms can keep a watch on fuel consumption, resources available and worker behavior. The tools will further assist security managers to monitor assets, examine the status of machines and a keep track of machine requirements.
These innovations have incredible potential to meet timely construction deliveries, curb construction cost overruns, and increase on-site productivity. Its high time and enterprises must consider these innovations to prepare a successful and profitable construction strategy, which will be fruitful.