Trending Enterprise Mobility Strategies to Drive Business Excellence
By CIOAdvisor Apac |
Monday, May 20, 2019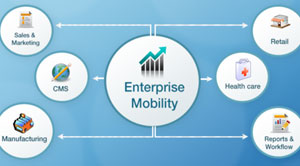 FREMONT, CA: The emerging technological advancements have showered upon us, many privileges, and one of them is enterprise mobility. Enterprise mobility enables companies to conduct their business with the help of mobile devices and a mobile workforce. The concept of enterprise mobility has brought about the required amount of flexibility and productivity in employees resulting in increased efficiency. Although enterprises are looking to leverage it, there are many apprehensions regarding the technicalities, the management, the challenges, and the risks associated with enterprise mobility.
Managing a mobile enterprise can be tricky. Companies looking to adopt mobility should devise a good set of strategies and enforce them. A lot of areas need attention; understanding the need for a foolproof plan is the first step towards bettering mobility. The position of the company concerning the available expertise, and resources in this field and the expectations out of opting for the same, form the essentials of the criteria.
A good understanding of the companies' requirement provides the foundation of a plan on which the strategies are supposed to be based. This plan made by the company should involve the goals that are set, clarifications regarding the vision, and the problems as well as the requirements that come from adopting mobility. The critical areas on which the management must focus on include employee training, IT tools, security provisions, impacts on customer experience, and expected costs.
Enterprises should do a thorough study and market analysis of other companies that use enterprise mobility in the same sector and conduct brainstorming to arrive at ideas to enhance functioning. The strategies can be to increase efficiency and reduce the delays that prove to be deterrents in mobile enterprises. Employees are also able to use apps and methodologies developed to increase productivity and solve issues that creep up.
The policy of the company is also a vital issue. Most companies already have sound IT infrastructure, which they need to integrate with the mobility framework. While choosing vendors to develop mobility, the companies should ensure that the vendors provide solutions to all their mobility needs and are compliant towards their security policies as well.
Ultimately, it is crucial for companies to assess the business impact and ask the right questions. A time demarcated plan should ideally place the company in an excellent position to evaluate the outcomes and meet the business targets.