Virtual Reality revolts health and safety in the transport sector
By CIOAdvisor Apac |
Friday, November 30, 2018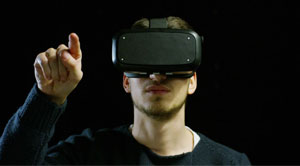 Virtual reality (VR) is referred to an artificial environment which is created with software, and its presentation to the user make it accepted as a real environment. The environment may be similar to the real world or fantastical. Current VR technology uses virtual reality headsets or multi-projected environments, sometimes in combination with the physical environment, to generate realistic sound, images, and sensations in a user of an imaginary environment.
Virtual reality is rapidly finding applications in all aspects of our life. Like any other industry healthcare and transportation sector are also getting huge beneficiaries by the applications of VR.
VR in the healthcare sector: VR has made significant improvements to the people suffered by autism, chronic pain, and other health conditions.
• VR helps make the delivery of therapy simplified of the autism-patients. Parents are now able to support their offspring from home only. VR-mobile products instigate social interactions with autistic kids by spurring virtual characteristics in a scene. Parent or doctor tailors the virtual environments and brings the sensory complexity in them.
• VR therapy is able to stop the brain from processing pain and reduces pain in hospitalized patients. This shortens the staying of the patients in the hospital which lowers the cost also. VR helps patients by distracting their minds from chronic pain.
• People with low vision have no choice but to live with it. VR products help the low vision patient in regaining their sights via VR experience.
• VR allows patients to practice how to move their fingers or lift their arms after a traumatic brain injury. The effects of the products improve Patients' engagement, motivation, and attention.
VR in the transportation sector: VR enables designers and engineers to use a unique omnidirectional treadmill to test out plans and designs in walkways and open spaces before anything built. It assists in transportation planning and design by simulating all possible scenarios. It is possible to create unpredicted circumstances as adverse weather conditions or vehicle behavior. VR has the potential to solve transport problems at a lower cost and without the associated risks of testing new technology in a live environment.
Today VR is taking people to the unknown future. Coming years will show VR applications mastering even in our daily life routine. The world will be at a better place with all the massive benefits that VR can bring.