VR-Powered Solutions are Transforming the Interior Designing Culture
By CIOAdvisor Apac |
Monday, July 22, 2019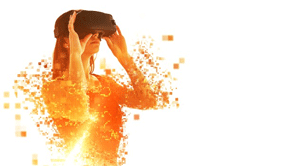 VR facilitates the designers to understand the client's requirements and to create the design accordingly.
FREMONT, CA : Virtual reality (VR) has excellent potential for the interior design industry. However, a close collaboration with a designer is required to realize VR's capabilities to its fullest. After all, it's the designer who can provide insights into the aesthetics of a pleasing and functional interior space. Moreover, VR enables the customers to express their ideal setup to the designers through visualization. Here are some the ways in which VR can change interior design:
Dynamic Design
It is possible to create dynamic real-time visualizations for a realistic environment of interiors. The design changes according to the interior structures, spatial planning, materials, and ergonomics. It enables the user to move around and figure out a layout of their choice. Delving inside the 3D space provides the customers with a better perspective and allows them to understand how the different designs work out.
Laces Designers with a Customer-Centric Approach
VR facilitates the designers to understand the client's requirements and to create the design accordingly. Thus a customer-centric approach enables them to fulfill customer's demands. Moreover, it allows the customers to understand how the pieces join together and actualize as per their visualization. It instills confidence in their decisions and creates deeper associations. VR solutions also allow the designers to bring more precision into the design.
Customer Engagement
VR enables the customers to visualize the designs from the comfort of their living rooms. Such features propel customer engagement and increase brand loyalty. It helps them to understand the effects of various parameters such as light and space on the designs, thereby allows the brands to build trust with their potential clients.
Reduced Operational Costs
VR also helps the businesses to keep a check on their expenses and monitor operational costs. It is enabling the organizations to cut down on staff-hours spent on interviewing, training, and meetings. With VR being increasingly used for generating revenues, there is a vast potential for the interior design industries in the future.
Check this Out:Top AR/VR Companies
VR ads are demarcating a paradigm shift toward digital ads against the conventional ones on TV. The driving force behind the change is attracting the customers by displaying the advertisements on their smartphones through apps. According to a study by Nielsen, VR generates 17 percent higher emotional response than a 360 video and engaged audience for 16 percent longer.
Few AR/VR Companies:Altuit , ContextGrid , Kinetic Vision