Website Redesign for 2019 Enterprise Requirements
By CIOAdvisor Apac |
Thursday, September 19, 2019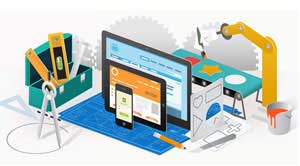 A website is a backbone for any business today. As the world is getting digitalized, the consumers prefer a more personalized experience. Before making any purchase, consumers prefer to go online for more information to make smart purchasing decisions. The website needs to be customized and user-friendly to ultimately bring more revenue to the business.
The main reason for an enterprise to redesign its website today would be to improve the user experience while browsing the site. More than 80 percent of online consumers are less likely to return to a website if they face a bad experience, according to an InVision survey.
There are two ways for redesigning the website: one is outsourcing and other is self-designing. In self-designing, the website, the owner knows what best suits the brand and what needs to be modified often. However, the self-design of a website is a huge undertaking and can devastate the in-house team. Approaching an agency is easy, but it has many challenges as well. An experienced agency can create branded websites that are user-friendly. They will guide the company throughout the process to provide a seamless experience. The agency also helps to keep updated with the latest trends.
SEO optimization plays a vital role without much investment in increasing the user base. It helps to ensure optimized content of good quality. It also ensures that the website also appears at the top of the search rankings. A website that appears at the top will increase the number of hits, leading directly to increased business and improving the company's credibility. The speed of the site loading plays as a crucial factor to retain users. A slow loading website is most likely to lose its users even if the web content quality is excellent.
The creation of a responsive menu bar, such as a drop-down menu that switches the link drop-down icon, ensures that visitors have access to the whole site and can navigate in a convenient way. Sticky navigation follows users as they browse the site, making navigation to other parts easier for them. Some navigation bars collapse into more manageable versions with fewer options but remain sticky. Web content must also be created in such a way that the user's pain points are quickly addressed. It can be achieved by strategically placing user-friendly contact forms throughout the site.
CheckOut : Enterprise Performance Management