3 Benefits of Managed Print Services
By CIOAdvisor Apac |
Tuesday, November 26, 2019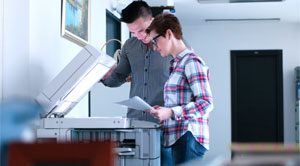 Government agencies still consider printers as inert and disconnected devices; however, they can help them enhance their security, strategically trim costs and improve operational efficiency.
Fremont, CA: In the old days, printers were viewed as mere pieces of equipment for printing documents. In government facilities, printers are still considered as just printing equipment even though they have become more feature-rich, internet-connected, and critical to operational efficiency. The capabilities of printers have changed drastically over the years as they are not only capable of faxing and copying but also a full-fledged wireless network device. Employees can use these devices to print from almost any mobile device or location. These devices require expertise to maintain, yet many agencies try to do the job themselves.
To get better results, agencies should employ the strategy used by private-sector enterprise organizations known as managed print services (MPS). MPS means outsourcing holistic and efficient management of printing and imaging services to an expert vendor. According to a recent report, the MPS market will be $50.78 billion by 2023. Despite the benefits of MPS, government sector adoption is low. Agencies must look for three aspects while examining MPS for its potential value: efficiency, savings, and security.
Efficiency
According to the Quocirca report, 66 percent of the business owners in the private sector believe that hardware and equipment offer more value when delivered as a service. In the case of printer fleets, this is true. The costs of documents are not included in the infrastructure and management of the printers. It is based on how employees manage, share, and store documents within their organizations, with customers or suppliers. One of the most significant advantages of managed print services is that providers can perform an accurate assessment of the faults in the printer fleets and offer suggestions to streamline processes and workflows while reducing downtime.
Savings
With managed print services, organizations can save up to 30 percent, according to analysts. Due to the operational improvements provided by MPS, providers can typically manage to print more cost-effectively than government organizations as they have the expertise, resources, and equipment. With MPS, IT managers do not have to monitor the servicing of printer fleets, and due to this, agencies do not have to pay the staff for maintenance.
Security
Modern printers are similar to personal computers as they have internal storage and are connected to the internet. This signifies that they are vulnerable to attacks. However, agencies still view printers as disconnected devices. According to a study, only 18 percent of CIOs see printers as a security risk compared to PCs at 91 percent while both mobile and servers at 77 percent. This indicates substantial potential vulnerability as cyberattacks rose substantially from 5,503 to 33,632 from the year 2006 to 2016, respectively. Managed print service providers can assist in minimizing the chances of attacks by providing complete security assessments and installing equipment with built-in security measures.
Managed print services can help agencies in cutting costs, enhance operational efficiency, and improve their security. The current trend is to outsource business functions to service providers when the company falls short in a particular area of competency. Government agencies can take advantage of MPS providers and focus on their core functions without worrying about the printer fleet.