3 VR Trends for better Visual Experiences
By CIOAdvisor Apac |
Wednesday, July 31, 2019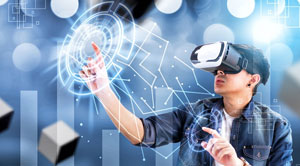 VR is advancing at a faster pace and modernizing almost every aspect of entertainment and recreation.
FREMONT, CA: Virtual reality has emerged as a high-tech fascination, which is capable of creating an all-in-all simulated reality, promising immersive customer experiences. It is all about wearing a headset that creates a 360-degree simulation. The following is a compilation of all that VR has to offer the media and entertainment arena.
• The VR and AI Enhancement
The list of trends in VR can never be complete without a touch of artificial intelligence. The duo has the potential to change the world. The two are in their infancy, to begin with, but they have made some appearances. VR is about virtual environments for people, and those environments are likely to become increasingly intelligent shortly. Gamers in VR will also face more challenging opponents as computer-controlled players will more effectively react and adapt to individual play styles.
• Consumer Entertainment: VR Hits the mainstream
VR adoption in homes has been steady since consumer headsets hit the market initially. Previous generations of VR headsets have been limited by the user having to be tethered to an expensive computer to power the experience restricting mobility. Stand-alone headsets incorporating powerful, dedicated computer technology will hit the shelves, confident that their users will now be unrestricted by cables or low-powered displays. VR developers will create more practical and precise simulations of a virtual world within the real world.
• VR and AR becoming Social
The social media giant believed VR would become vital to the way we build shared online environments. Whether it's for virtual conference calls where members can see and communicate with each other, or socializing and unwinding with friends. Pioneers are leading the way with AR tools for the boardroom and office. Users can see virtual whiteboards and pinboards, as well as collaboratively work on design documents overlaid on real-world objects,
Top Augmented and Virtual Reality Companies :

7DX

,

7e Systems

,

VRTY

.
Experts say the future of VR is location-based. It will bring the VR experience to users where they are regardless of their location. However, customers need to be aware of the proactiveness of VR. Consumers in today's time are looking for a compelling experience. VR can play a massive role in the future of learning and development. With virtual simulation, a user can have real life-like expertise at a fraction of cost.