3D Printing with Light: Opportunities in Manufacturing
By CIOAdvisor Apac |
Monday, April 01, 2019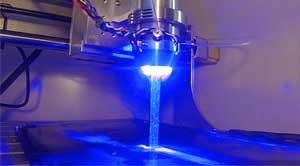 For relatively small manufacturing jobs, 3D printing could potentially change the game, producing more identical parts in a short span. It means that the objects could be made with a significant upfront investment without the need for a mold tool.
Researchers at Michigan University have developed a new method where it is 100-fold faster than normal 3D printing method. The new method is allowing the high-speed production of items. It promises faster and more efficient small-scale manufacturing. The researchers use light in a liquid vat to shape resins. It is less time-consuming than the conventional method of 3D printing an object by building up plastic filaments layer by layer.
The method used by Michigan University solidifies the liquid resin by using two lights to control where the resin cures and where it remains liquid. This allows the team in more sophisticated patterns to solidify the resin. In a single shot instead of a series of 1D lines or 2D cross-sections, they can make a 3D bas-relief.
A window that allows oxygen to pass through was an earlier solution to the solidification-on-window problem. The oxygen penetrates the resin and stops the solidification near the window, leaving a film of fluid that allows the newly printed surface to be pulled away. However, since this gap is only about as thick as a piece of transparent tape, the resin must be very runny to flow quickly into the tiny gap between the newly solidified object and the window. This has restricted vat printing to small, customized products for relatively gentle treatment, such as dental devices and footwear insoles.
By relocating the oxygen with a second light to stop solidification, the Michigan team created a more significant gap between the object and the window of millimeters thick. This is allowing the resin to flow in thousands of times faster.
The new approach could allow small-scale manufacturers to turn faster after producing a small batch of identical items. Furthermore, the researchers promised that the new approach would protect objects from wear and tear, contrary to traditional techniques with weak points at interfaces between layers.