A Glimpse into the Future of Blockchain in Diverse Sectors
By CIOAdvisor Apac |
Monday, January 28, 2019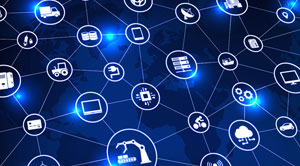 It's all about blockchain The shared database technology was hailed as the next great thing, many of which have their reputations and personal fortunes. It has been claimed that it can help to end poverty and fraud in financial systems or any system involving centralized control.
The cryptographic algorithms of the blockchains would make data more private to consumers. Blockchain enables reliable peer-to-peer messaging and has already demonstrated its value through cryptocurrencies like Bitcoin in the financial services world, providing guaranteed peer-to-peer payment services without the need for third-party brokers.
The use of blockchain technology to record and manage the movement of goods and related invoices will greatly reduce the risk of errors and the possibility of changing invoice values. More than 2,000 companies were appearing and riding the wave of blockchains presuming the fame of the Initial Coin Offering (ICO). Due to the inherent advantages of LED technology, blockchain has become an increasingly valuable tool in many industries. On the one hand, blockchain provides a simpler, more direct mechanism for smart contract transaction recording.
Check out APAC CIOAdvisor's Top 10 APAC Blockchain Solution Providers - BitPost, Decentralized Vision, Diginex ,...
According to Gartner, a technology consulting firm, blockchain in the wealth management industry is set to grow by 43 percent by 2022. Blockchain technology can change wealth management's value proposition for operations and streamline customer service operations.
Better security and new gaming opportunities and incentives are some of the advantages that blockchain can bring to a virtual gaming experience. Not only large technology companies but also start-ups have started investing more money and time to develop the blockchain gaming.
The use of blockchain technology is not only limited to companies, but governments can also use it. A clear example of this is that of digital voting, which ensures that a real person casts his vote and that the process is completely fair and open. It is evident that blockchain, when appropriately used, is a powerful cross-company transformation engine that offers a competitive advantage, increases revenue significantly and reduces costs. Today, companies need to understand and adapt the business value of blockchain technology and increase the market value and customer trust for their companies.