Agile - An Important Component for Digital Transformation
By CIOAdvisor Apac |
Friday, January 18, 2019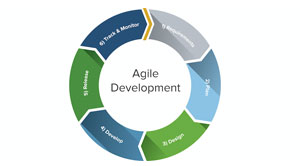 Agile development is prevalent in the market since the 1990s. It has changed the software conceptualization, creation, and delivery. Today, agile is used to drive digital transformation which means creating a company with technology at its core. Digital transformation means creating new businesses and creating customer value with the technology of present day and age.
Agile allows an organization to release software in smaller iterations but at a much faster rate based on customer feedback. Quick adaption based on feedback is one of the critical components of Agile, and it helps in creating powerful digital customer experiences. When an organization adopts Agile methodology, they encourage broader cultural shift emphasizing in transparency, accountability, and empowerment. Therefore, it is crucial for top management and employees to receive formal training to understand the change which comes with adopting Agile.
Check Out This : Top 10 Agile Consulting/Services Companies - 2018 ( CoActivation, LPS, Onion Creative )
Implementing Agile comes with its challenges. It shuffles the company culture and how teams work together. A company's team may be spread across the globe, and it is essential to have the right information. For example, the burndown chart must be visible to all the team members to help the team members understand the amount of work finished on the project. Every project holds a lot of value for an organization. It is significant for a company and the team to acknowledge the success of the project and celebrate it as a team.
Agile offers flexibility. Traditional businesses plan a project with a little room for change. However, the Agile process expects change and accepts it. If the team finds a different solution to be better and more practical, they have the flexibility to switch. Agile teams continuously learn and alter through regular iterations. It allows the teams to review the progress and improve parts of the projects.
The Agile approach offers complete transparency with regular collaboration and communication. It guarantees that every team member knows every tiny aspect of the project. Daily work charts provide tangible ways to track progress. Transparency, testing, and optimization allow early detection of issues and the appropriate adjustment to be made quickly. Majority of companies are going through a digital transformation and adopting an Agile approach encourages continuous innovation and empowers businesses to be market leaders.