AI and Blockchain Helping to Move Towards More Digital Society
By CIOAdvisor Apac |
Thursday, May 30, 2019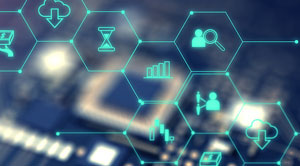 Blockchain and artificial intelligence are two new technologies in the business world that rapidly lead to further digitalization. Many companies across retail and shipping industries use such technologies to counter disruptive threats and to push new markets into new streams of revenue.
Blockchain offers a higher degree of transparency for companies about shipping and the movement of products through the supply chain. Once it is entered in the digital ledger, folks cannot edit information. Then companies don't even have to worry about the manipulation of potential records. Also, all the parties concerned can monitor existing shipments and assist all supply chain members. IBM and Maersk joined forces to form a global trading blockchain platform in 2018. IBM reports that the costs of global trade have been estimated at approximately $1.8 trillion annually, with some 10 percent savings from more effective processes.
Worldwide hospitals have moved to electronic medical records. One of the advantages is the ability to see a digital portrayal of a patient's medical history outside a particular facility. Recent Google work involves increasing the value of digital records with profound knowledge, an AI subset. Deep learning designs can provide broad predictions for patients in the hospital. They examined patient data as a schedule, which showed each event during a stay. Then the algorithms used the information to make predictions like hospital mortality rates or reception rates. AI didn't digitize health records but has opened up opportunities for providers to enhance the patients care.
In a 2017 study of the US banking habits, the majority of them choose to take a stand on digital methods using their computers and the second most popular option is the mobile phone platform. As it turns out, with the blockchain, the banks are also becoming more digitalized. Last year, Emirates NBD, a UAE bank, used the technology blockchain to reduce cheque fraud as little as possible. Each page in the newly published bank cheque book has a QR code that records the check on the blockchain.
The company MusicLife integrates AI and blockchain. The AI calculates the fair value of songs based on the number of people listening to them. Therefore, people invest directly in their favorite artists. They can also purchase a cryptocurrency that promotes a new artists' incubation program. Artists allow MusicLife to distribute copyright but retain 95 percent of their song ownership rights.