AI: Transforming Healthcare
By CIOAdvisor Apac |
Thursday, July 04, 2019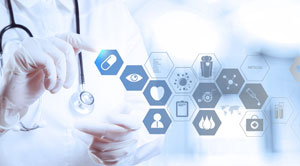 The prowess of artificial intelligence (AI) in solving a variety of issues for patients, hospitals and the healthcare industry is the impetus behind its skyrocketing implementation in healthcare. Healthcare providers often get weighed down with the same three questions. How do we enhance patient care? With growing populations, how can we help more people? And how can this be achieved cost effectively?
To address these questions, most of the organizations are increasingly reliant on technology. And the responsibility of tackling these challenges is falling into the hands of the healthcare institutions' IT department. The IT team is now dedicated to helping their organization reduce costs, make resources available for medical professionals, and encourage medical innovations within the organization. With the use of advanced technology, physicians are able to understand more about a patient and accurately diagnose an issue.
Check This Out: Top Healthcare Tech Companies
Healthcare organizations are increasingly looking towards advanced real-time analytics and 'deep learning' such as artificial intelligence (AI) and machine learning, in order to underpin the processing and delivery of data. In addition, the application of real-time analytics can assist physicians to detect and diagnose diseases quickly, reduce time-to-treatment and care costs, which will eventually lead to better patient care and outcomes.
Everything from medical apps to latest imaging technology is generating a vast amount of data to support the diagnosis. For instance, by garnering information on a patient's lifestyle and their DNA structure, hereditary abnormalities in the family, heart rate and BP, can be measured and prevent certain illnesses altogether.
But adopting advanced real-time analytics isn't a cup of cake. Vast amounts of data need to be processed and analyzed quickly, in order to make the split-second decisions that the technology is capable of. Therefore, these projects require a very robust cloud infrastructure and significant compute power to work effectively.
Few Healthcare Tech Companies: Bicosome, Exadel, Vocera Communications