An Algorithm that Transforms Games into 3D Augmented Reality
By CIOAdvisor Apac |
Friday, November 30, 2018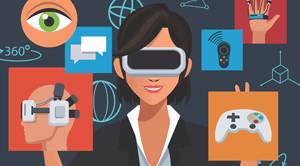 Imagine getting the three-dimensional experience of watching a world cup game live and in person while still sitting at home; as opposed to watching it on flat television sets. Sounds fun and promising, isn't it? In the light of this, researchers from the University of Washington have come up with a machine learning algorithm that can flip a 2D live-action televised football match into a 3D augmented reality game, when viewed using AR headsets like Microsoft's HoloLens.
The result is that viewers can turn flat surfaces like a desk or kitchen table into a virtual football field. The game essentially becomes a hologram that can be viewed from different angles, providing the user with a more immersive at-home match-day experience.
---
Suggested Read: In Augmented Reality, Size Matters
By Jason Blackman, CIO, Carsales.Com
---
Konstantinos Rematas, one of the researchers on the project, expressed that the project aims to enhance the viewing experience of sports. The algorithm that generates the Augmented Reality experience requires a YouTube video of the game as input. And since, that isn't enough information needed to "up-convert" 2D players into 3D; the neural network gained an understanding by playing the EA video game FIFA 2018. Collectively using the totality of this information, the algorithm could accurately gauge where the players are on the pitch.
The project is still a work in progress. At present, the virtual football is yet to be made perfect. Additionally, they are also figuring out ways to precisely estimate the exact location of the football and design better 3D structures of players. They are also planning to extend the framework of the AR game to encompass other sports such as basketball and hockey.
---
You may like: Augmented Reality - What Future Holds?
By William D. Confalonieri, Chief Digital Officer, CIO & VP, Deakin University