AR's Potential to Benefit Various Sectors
By CIOAdvisor Apac |
Tuesday, August 13, 2019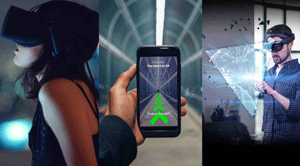 Today, AR has extended its potential to industries like military, healthcare, education, logistics, retail shopping and more.
FREMONT, CA: The ease of access to powerful smart devices has led to a convergence of Augmented reality and Virtual reality (VR). Nevertheless, technology applications are not limited to gaming, but several other fields in the industry.
Augmented Reality (AR) is benefitting various sectors of the economy.
AR Makes Travelling Fun
Hiring travel guides is becoming a thing of the past now. AR-driven applications permit travelers to gather information about the places in a structured and detailed manner by merely scanning the surroundings. AR also helps the tourists to identify nearby hotels and restaurants along with the reviews, public transport options, and directions to other sightseeing spots through interactive maps.
Check this out: Top Augmented Reality/Virtual Reality(AR/VR) Companies
Augmented Reality in Military
• Live training can be offered to soldiers to attain a high level of war-fighting readiness.
• The advanced development program facilitates to train soldiers for infantry, armory, and aviation.
• AR helps soldiers to visualize complex operational environments and prepare them to deal with the scenarios—physically, mentally, and emotionally.
• AR technology provides geo-registration and integrated GPS information, which helps armed forces to know the exact location of where they are in any situation.
• The high-tech 3D maps help in navigation, tracking, and reporting real-time information
• Locating enemies is not easy; AR is used to create eye equipment like night vision glasses for defense forces to fight even when the sun is down.
AR Makes the Entertainment Industry Attractive
AR is extensively used in television, motion pictures, and other media professional activities. The technology presents limitless boundaries for makers to bring forth their creativity and provide a valuable experience to the users.
Augmented Reality/Virtual Reality(AR/VR) Companies: Altuit, ContextGrid, Kinetic Vision, RE'FLEKT GmbH
AR in Enhancing Education
AR has changed the past education scenario extensively, gone are the days of using chalk and a blackboard. AR is creating an opportunity for pupils to interact with the digitized setting by making their understanding of a concept more efficient. Moreover, AR has changed education by bringing in 3D view of different plants, organs, and objects, which allows information comprehensively