Artificial intelligence in healthcare
By CIOAdvisor Apac |
Thursday, April 04, 2019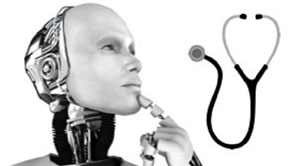 Artificial intelligence (AI) and machine learning (ML) are quickly growing to be the technologies with a potential to change the world entirely as we know it. The two have already left their footprints in various industries such as manufacturing, logistics, and retail. Now is the time we're witnessing their permeation into the healthcare realm. Robot-assisted surgeries have already made way into the world, and now Artificial intelligence (AI) and Machine Learning are demonstrating their capability to improve doctor-patient interaction and make hospitals more efficient.
While most healthcare facilities utilize these technologies for improving clinical workflow and other administrative processes, researchers are continually exploring possible application in other areas of this expansive sector such as pharma and insurance.
( CIO's Viewpoint: Building a Leading Innovative eHealth Organization )
Nonetheless, the old contentious question still stands valid: Are we ready to completely rely on the assessment of computers and able to trust them entirely?
Despite all the progress made by AI in the healthcare sector, there's still a very steep road ahead for it to make a permanent or lasting mark in this particular industry. Though the prospects look promising, only future can reveal whether or not these technologies can deliver what its proponents are putting forth today
---
You may like: How Blockchain Could Impact the Medical Health Records Sector
By Bruce Haefele, General Manager – Technology, Healthdirect Australia