Augmented Analytics: Fusion of Artificial Intelligence and Business Intelligence
By CIOAdvisor Apac |
Thursday, November 14, 2019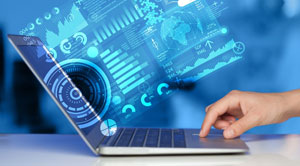 Advanced analytical tools are on the top priority list of organizations. Data analysis will be overtaken by Artificial Intelligence (AI) and Machine Learning (ML) in the near future. The transition from manual process to AI-powered machine learning for authoring and manipulating context will disrupt the tech industry.
The evolution of analytics began with a logical layered plan where the beam of truth covers relational data for operational reporting. Later, the interactive analysis was introduced. At the moment, AI and machine learning need to be saturated to tune the process dealing with data science models and operations. In the future, natural language will be the dominant player because of this era's over-consumption and interaction with analytics.
It is vital to understand the relationship between data, important drivers, segments, and outliers. Exploration of links can take place with speech recognition innovations regarding asking questions. Analytics depends on familiar data, familiar questions and reporting based on the research. New tools and aspects are getting introduced as the industry prospers. However, the manual process is still prevalent in some companies. For the manual method, data needs to be gathered, prepared, and patterns need to be found. Later, sharing and operationalizing insights, adding business logic and calculations, enriching the data with new data sources, and finally cataloging and having a lineage of the data takes place.
Today, manual exploration of data is done via interactive visualization. Advanced analytics model is built manually. Augmented data preparation uses algorithms to make the manual process simple. The algorithm auto-detects the variables, schemas, profiles the data, re-shapes the data.
Natural language processing (NLP) and Natural Language Generation (NLG) have been proposed because of advancement in augmented analytics. These concepts boast the feature of auto selection of the model and auto-generation of the code. Users decode the same insights with different analytical expertise.
Modern BI and augmented analytical approach is the core of audio/visual-based data discovery. With experiments, the industry will uncover new ways to solve analytical debates.
See Also: