Augmented Reality: Changing the face of business
By CIOAdvisor Apac |
Wednesday, May 22, 2019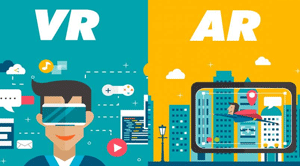 While the business leaders are continuously embracing digital transformation tools, the emerging Augmented Reality (AR) technology serves inventive solutions with which, entrepreneurs can materialize business digitalization at an alarming rate. Disrupting the industries the AR technology is changing the conventions of business principles. Bringing a new wave of modernization this technology is instrumental connecting the users to the dawn of next-generation business dynamics. With a unique approach of 'try before purchase,' customers can get to see live demos of the product and the interested leads would be given exclusive opportunities to take a digital tour on exploring the product descriptions virtually, with the help of AR-driven advertising features.
By making use of advanced speech-enabled voice recognition systems, the responsive catalog is the latest AR business innovation increases customer interactivity and personalizes responses based on the results obtained from customer data analysis. As this technology works on the principle of creating a 3D layer of virtual instances and appending it to the reality, visuals simulated by AR are proven to be more appealing and dynamic; AR adoptions support high-speed, more straightforward and clutter-free business processing, and secured internal and external networking.
AR technology provides smart operational analytics and insights into performance statistics, to empower business processes. Strengthening the business verticals such as marketing, sales, and meeting the rising demands for enhanced customer experience, augmented reality provides various use case such as visually-enriched training and learning tools, AR lenses, sensors, and more.
AR has incredibly transformed the lifecycles of businesses with unparalleled innovations. The technology of augmented reality provides a plethora of opportunities and features, which can be utilized, to the fullest depending on the business creativity. Besides, technologists state that AR is capable of breaking all the real-time barriers to overcome all the business complexities, from the minute to the largest.