Big Data and Iot in Smart City Projects
By CIOAdvisor Apac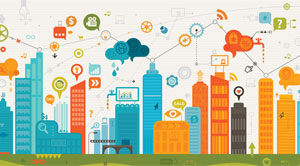 Smart cities can bring in a remarkable transformation in our everyday lives and can be considered as the Fourth Industrial Revolution. At present, everybody is focusing on various smart city initiatives like smart energy and traffic management, smart public safety, and smart buildings and advances in technologies are helping in this journey. The smart city technology market is predicted to grow in excess of $ 27.5 billion, and by 2025, there could be around 88 smart cities worldwide.
The smart city initiatives are boosting up due to the occurring developments in big data and IOT (Internet of Things). Leveraging big data can bring environmental improvements and can efficiently save energy. Through big data, the city can gain more useful information's that supports the initiative. Big data applications provide efficient data storage and processing to create information that can enhance services.
IoT is the applied foundation behind the smart city initiatives. A city can only be smart when all the devices are interconnected to be able to communicate with each other. IoT uses high networked services to integrate sensors, radio-frequency identification, and bluetooth to connect everything together and thus make a city smart.