Blockchain Aiding IoT to Overcome Cloud Drawbacks
By CIOAdvisor Apac |
Thursday, December 20, 2018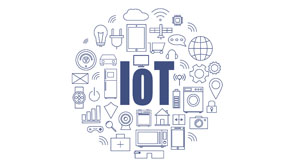 Blockchain technology has just stepped into the industry, whereas many Internet of Things applications are already available. Both the technologies are new age and potent to revolutionize the market. On one hand, IoT is a network of connected devices communicating with each other over the cloud, and Blockchain on the other is a technology of decentralized ledger enabled with cryptographic security and immutability. Convergence of the both these would result in abolishing the current bottlenecks of IoT.
Although, IoT is successful in the present but still has some issues to overcome. Centralized storage is one of them; data collected from IoT devices is stored in the centralized cloud making it vulnerable to cyber attacks. Scalability and processing speed are other drawbacks of centralized storage apart from security. Continuous monitoring and validation of transaction is a need with the current IoT working model which requires cost investment and time.
Blockchain can be a solution to these drawbacks, as it is a decentralized ledger system it automatically eliminates the rule over data and third-party interventions from the workflow. The blocks as a ledger are secured with cryptography providing the most needed element of security; also every transaction made on the data is stored in the chain network giving a track of all activities. Decentralization and no third party intervention would enhance scalability and processing speed of the IoT, blockchain ecosystem.
Smart Contracts, another feature of blockchain will allow devices to function securely and autonomously by creating agreements that get executed only when the specific requirements are met. These contracts permit greater automation, scalability and cheaper transfer. With immutability as an asset smart contracts prohibit overrides by individuals who want to use data for their profit. Decentralized blockchain network mitigates the risk complete network failure by supporting peer-to-peer transaction allowing rest of the network to work smoothly.
Already many projects are being carried out by organizations to explore this new age combination of technology and utilize it as a ladder in overcoming present-day challenges.