Blockchain Cloud Networks: On-demand Secure Services
By CIOAdvisor Apac |
Thursday, May 23, 2019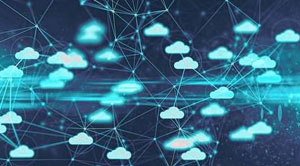 Most businesses now have a multi-cloud strategy, and most have private and public cloud hybrids. This is a substantial number of companies that have difficulties with the management of existing complex networks, multiple clouds and related security issues. As useful as cloud computing, various systems and cloud management can be complicated and risky. For these enterprises, blockchain technology can make it easy as it can be used to run cloud networks effectively.
Blockchain systems often include powerful auxiliary tools and technology, such as robust peer-to-peer networking and data replication implementations, due to Blockchain's decentralized nature and the enthusiastic open-source communities. These features allow cloud suppliers to connect to a shared network in which every link securely peers with any other point regardless of the cloud or container instance. The resulting peer-to-peer network can function as an agnostic overlay on the connection points that make data transfer more comfortable and safer. Amazon Web Services is quick to realize that Blockchain is a flexible part of the toolkits of various businesses.
Things like remote work and decentralized work become increasingly popular with advancing technology. That is why companies need to adopt a more flexible approach to accommodate this increase in remote work now than ever before. Constructing many physical sites worldwide is one way for companies to do this. But this is a capital-intensive solution. It is not easy to connect decentralized offices with cloud technology. This applies in particular to companies that are dependent for increased revenues on additional physical locations.
The fact is that blockchain technology may change the way companies do business. However, if the primary network points fail, the most efficient Blockchain would be resilient. Stronger identity management and safety endpoints are required. The blockchain technology's cryptographic keys are more valuable than easily cracking user names and passwords. The technology from Blockchain is still early on. In many industries, however, it has proved incredibly useful. Further in-depth research is needed to discover all the advantages of blockchain technology. Developers are already working to change the world using blockchain technology.
Finally, cloud requirements have forced companies to drain resources from complex solutions for common network-scale problems. Blockchain may be a promising yet emerging technology that is sometimes, not otherwise, useful.