Bridging the Trust Gap between Consumers and Digital Platforms
By CIOAdvisor Apac |
Monday, November 04, 2019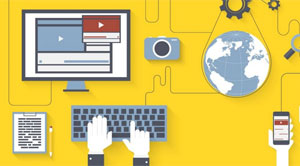 Privacy, security, and reliability are a few of the major concerns of Indian consumers while transacting digitally. CIOs and Digital Leaders need to gain consumer trust to flourish.
Fremont, CA: In today's digital era, consumers prefer transacting via a trusted digital platform rather than old school shopping methods. However, the majority of customers in India do not trust digital services to protect their data. Experts believe that CIO or CTO can reduce the trust gap between consumers and digital platforms. A study jointly conducted by Microsoft and IDC amongst 6,400 consumers and senior leaders across 14 markets in India reveals that privacy, security, reliability, ethics, and compliance are equally important to the consumers. The study finds that consumers expect trust from financial service institutions, educational institutions, and retailers.
Around half of the consumers in India restrain from using digital services as they had their trust compromised when using digital platforms. Hence, an organization's strategy should include developing a trusted platform. Consumers require a platform that they can entirely rely on; therefore, 51 percent of respondents indicated that they would switch to another platform, and few would stop using digital services altogether.
India is one of the largest and fastest-growing digital services markets in the Asia Pacific, where in the near future all transactions would take place digitally. To gain consumer trust, organizations need to understand what drives their trust and focus on building trust, and leverage it to make it their unique value proposition. While dealing with consumer trust issues, CIOs and digital leaders should focus on trust as a foundation of digital transformation plans and privacy.
As AI applications are increasing in every market, eight out of 10 enterprises are now considering AI adoption. Despite the ability to drive revenues, improve customer service, lower costs, and manage risk, some organizations fear liability issues, lacking the skills and resources to harness AI's potential. Francesca Rossi, an Italian computer scientist and professor says, "Enterprises can gain consumer trust by being transparent about their data usage policies as to the consumer providing the data should be aware of how the data is handled, stored, and used."
The study surmises that technologies such as artificial intelligence can work in favor of enterprises and reduce the trust gap. Additionally, the study points toward compliance institutions such as the General Data Protection Regulation (GDPR) in Europe and Data Protection Bill in India that can play a crucial role in reducing the trust gap. As the majority of customers still do not view organizations to be trusted with data, it is evident that CIOs and digital leaders need to learn what drives consumer trust and focus.