CIOs May Be Taking Over Certain HR Tasks in the Near Future
By CIOAdvisor Apac |
Friday, September 27, 2019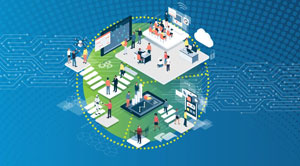 CIOs have been entrusted with the responsibility of managing Information Technology infrastructure. However, the ongoing technological requisites and the never-before demand to excel are forcing them to invade the human resources space too.
FREMONT, CA: The current CIOs are witnessing a change in their traditionally defined roles, which have become inevitable for them. To meet the expectations of customers, an overall change might be required across the enterprise. As enterprises believe that such a change might not be possible without technical expertise, CIOs may have to shoulder some of the responsibilities of HR as well.
In fact, many believe that within a span of say two years or so, CIOs might be crucial for establishing the apt business culture for enterprises during a period of constant technological change. As enterprises try to incorporate more and more technology, a few believe the CIO is gaining superiority over impending culture change, which is a crucial budge from activities dominated by the HR department.
CIOs may have to implement the right business culture through the technology options they make. In fact, most of the CIOs have played significant roles in enabling the required cultural change in the recent past.
Restructuring enterprise objectives as per the ongoing digital evolution are equally challenging. CIOs have to continuously re-invent procedures, which are extremely profitable and functioning well.
CIOs As Enablers of Cultural Shift
As enablers of the cultural shift, CIOs might have to start implementing new policies from the beginning of technological change. Also, working in collaboration with other leaders will be of advantage. For example, the CIO and CMOs collaboration is already impacting several departments across an organization. Also, to be successful in their role as cultural change makers, CIOs may not like to look to channel the human resources chief, but need to work in collaboration with their sales and marketing peers.