Consider These Five Areas to Level up Mobile App Development Services
By CIOAdvisor Apac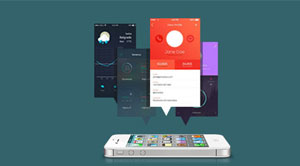 We can connect with the world at a touch of a finger now. Mobile devices are paving ways to become of the most influential and the most used tool, and undoubtedly it has succeeded in becoming one. Traffic on websites through mobile devices has increased significantly. Also, the lowered price of smartphones and data prices have played a vital role in increasing the number of internet users; businesses are also leveraging these technical advancements. The critical areas of mobile app development that should be considered are given below.
1. Simple and Straightforward: Creative ideas are a plus point, but the target audience should understand them. Therefore, enterprises that are new to the market must focus on simplicity and innovation simultaneously. Accessibility of the features, of an application, has to be quick and easy for the user. A simple app would work even if the data connectivity is low whereas an application which is heavy and complex will take a lot of time to download and not every user has the patience to wait; user interface plays a significant role.
2. User-Centric: Well, enterprises have to focus on providing convenience to their customers, therefore while building an application; they must concentrate on the user-centric element. The design of the application must be captivating that users won't feel like leaving the app. Businesses must look forward to analytics system which must keep track of the app and recommends places that require changes which would then help the developers to make the necessary changes.
3. Operating System: Websites works same on any browse, therefore, operating compatibility is never an issue, but the app doesn't work like this. To provide convenience to the users, developers must develop websites which are compatible with the operating system of the mobile devices. Two majorly used operating systems are iOS and Android but to make the app compatible with the mobile applications is a costly process.
4. The technology used must be scalable: It is advisable for developers to move from HTML to JavaScript to improve the website's functionality. Enterprises have realized that app is a better medium to connect with the users; therefore, all the innovation is being carried in this direction. Hence, the mobile app development software is also changing and updating, and therefore it becomes essential for developers to choose the latest technology.
5. Development process must take place in phases: Developing a mobile app is a constant process where one has to update the features as technology advances. The development process takes place in stages depending upon the users' feedback; therefore, the plan made must be flexible to make quick changes whenever required. Even if an application is fully functional according to the customer, one has to keep on updating their application by providing the users with fresh content.