Cybersecurity Advancements to Counter Healthcare data breaches
By CIOAdvisor Apac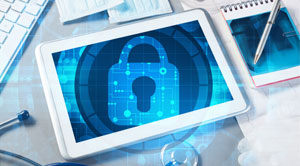 In the present day cybersecurity arena, there are myriad of challenges involved in securing patient records and safeguarding healthcare IT infrastructure, with risk and data predators lurking everywhere. The task at hand ranges from protecting medical devices to adoption of cloud to train employees effectively, leaving healthcare organizations in the dire need for help with regard to cybersecurity. In the past year, there have been a reported 295 cases—by the Office of Civil Rights in the U.S. Department of Health and Human Services —of data breach at healthcare providers with more than 500 records involved in each. The overall count of direct and indirect victims of the breaches was reported to be 4,770,889; most of which could have been avoided by deploying the right technology, protocols and training.
In the recent years, healthcare industry can be seen as the lowest hanging fruit for cybercriminals, with the cost of recovery far higher than before and higher than other industries. Although there have been significant advancement in cybersecurity by healthcare organizations, it has been found that the advancements are not happening fast enough. Survey outcomes state that healthcare organizations exhibit better understanding of cybersecurity and are able to implement strong security practices. As an addition, it was found that C-Suite executives look at cybersecurity a lot more acutely, while the number or organizations who use risk frameworks has increased. C-Suite executives of a large number of organizations are opting to take up hands-on approach towards better cybersecurity practices, allowing them to present security concerns and data to the board and discussing prominent risks.
With the steps taken towards cybersecurity, it is considered by many that it is not happening at the pace required to counter the large number of attacks, especially with the it environment becoming more complicated with respect to medical devices and migrations to clouds. Over three-fourths of survey respondents were unconfident about cloud and the security involved, inspire of already using it in one way or the other. Most users find it less comfortable in their organization's capability to ward off attacks, with a significant majority quoting financial reasons as one of the biggest challenges faced by organizations in bettering their security standpoints.
As an answer to these challenges, companies can choose to create a cybersecurity culture by means of awareness and trainings. It is important to have a harmonized approach to the security spanning from legacy networks to cloud apps. While planning an incident response, all stakeholders need to be involved—IT, Public Relations, Legal, Executives. Notwithstanding the security risk for the healthcare sector are prevalent and are here to stay, leaders and executives in the sector need to take a stronger stand to ensure continuous progress in their security standpoint.