Data Center Solution must be Engineered with Connected Infrastructure
By CIOAdvisor Apac |
Friday, April 12, 2019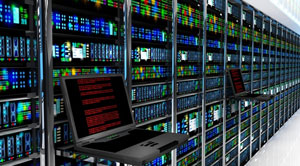 The design of the data center relies on many aspects such as site selection, facility design, IT hardware, cooling, network, and distribution of power. Few parameters need to prioritized and effectively planned for a successful data center project. The delivery of services to its end customers (at the right time, at the right place, and at the right cost) is one of the most important goals for any business. This will drive the growth and profitability of a business.
Meteoric expansion and unprecedented mandates for scalability outperform what high-capacity data center customers like cloud and platform providers and business organizations want to produce in their own facilities. In addition, predicting utilization and growth models becomes a complex endeavor with a variety of bottom-line risk factors for these organizations when expanding into existing or new markets. Some companies are rolling the dice and overprovision to solve this, thereby increasing CapEx and OpEx. Moreover, others may obviously be unable to quickly build or acquire data center capacity, where and when they need it, hamstringing new revenue-generating initiatives. Velocity, scalability, and sustainability have become mission-critical across this business landscape when expanding or improving existing infrastructure for hyperscalers, cloud technology, and platform providers.
Two criteria can be factory-built and tested for power consumption. This would ideally include a structured electrical kit and a complete inventory program for cooling, ranging from heat rejection to heat absorption.
Check out: Top Data Center Tech Companies
Scalability includes offering cooling technology that enables customers to install infrastructure where and when they want it, and to quickly and seamlessly reconfigure usually within the same footprint–as their requirements change. By doing so, cloud and SaaS providers, as well as large companies, can scale up existing workload densities without having to reconfigure existing infrastructure, disperse equipment, or require large-scale investment to increase floors to increase heat loads. Finally, sustainability addresses providing a data center platform that assists businesses with less expensive energy and infrastructure resources to deliver greater business value.
A data center solution must be engineered with connected infrastructure in mind, performance guaranteed, time savings, space optimization, resource utilization enhancement, and sustainability enabled.
Few more Top Data Center Tech Companies (Alcatel-Lucent Enterprise, Green Revolution Cooling, Nfina Technologies)