Data Science: The Main Aspect for Web Development Transformation
By CIOAdvisor Apac |
Thursday, January 10, 2019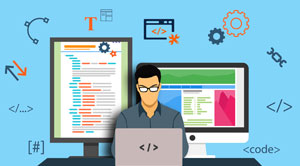 Data is the driving force of the modern digital age. Entrepreneurs depend on data-driven strategies to thrive on the web. Data is responsible for extracting meaningful insights, analyzing massive datasets, and building a robust online identity. Consumer data will be the biggest differentiator in the near future. The organization that utilizes the data properly will thrive in the market.
Here are the five ways in which data science is transforming the web development industry:
Boosting Software Production
Earlier, web developers used to create page layouts by their judgment and sense of creativity. Today, with the help of data science, programmers evaluate competitor website entirely and create something unique for their client. Additionally, advanced analytical tools provide consumer data and give precise suggestions about a particular feature or functions that are popular among users. Data science enables the development of better and faster software solutions that are suited to ever-changing needs of the customers.
Automated Upgrades
Machine learning is used to analyze the vast pool of data and version upgrades are built whenever needed. Manual updates are no longer required as developers now tap into the consumer data produced digitally through social media and online forums. Additionally, data science is used to drive useful insights and emerging patterns in customer behavior to make the website self-learning to enhance itself at regular intervals.
Modernizing Web Development Skill Sets
Web developers are gaining the basic knowledge of advanced analytical tools. Majority of repetitive and mundane tasks are getting automated with data science technology. This is prompting programmers to learn about data science tools. It is essential for a web developer to scour innovative ways to analyze and utilize data and build user-focused websites that can attract customers.
Enhancing Personalization
Advanced AI-powered tools have made it easier for web developers to give a personalized feel to their website. AI technology helps in tracking user behavior by aspects like gender, age, location and more. This tracking feature makes it easier for programmers to customize the sites as per customer needs. By tracking customer spending habits and observing their preferred websites, personalized ads can be created to help users take a buying decision.
Virtual Assistants
Advanced web apps and sites that are built on data science technology can remember users' preferences. These web apps can study the lifestyle and the time usage of the customers, act as smart repositories, trustworthy partners, and intelligent databases for users. Users can set reminders of significant tasks. These apps can identify gaps in the user's schedules, and it can stop the users from habits like procrastination.