Drone's Leap of Faith
By CIOAdvisor Apac |
Wednesday, November 06, 2019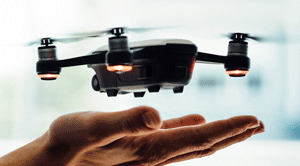 It was a time when humankind just dreamt of flying but with the advent of drone technology, humans can reach to any place within fraction of seconds. With the application of drone technology, delivering services will become much more agile in the future.
FREMONT, CA: Some aspects of technology excite machine lovers and the general public equally, and included in that number are drones. The unmanned aerial marvels ignite the imaginations of people from all over the world. Drone technology has been unlocked for practical implementations in aerial data and information management rather than being used as playthings. While drones have been in use for a few years, algorithms and programming are just catching up to unmanned aerial vehicle (UAV) capabilities, presenting exciting possibilities that will present themselves in new forms over the next decade.
A New Eye in the Sky:
Drones, by design, enable researchers to take to the skies and capture visual information. With the right programming and computing power, drone technology translates any landscape into a data point that can be used in several ways. UAV technology makes it easier to capture visual information and utilize the data through enhanced computer models.
Crossing the Chasm into Mainstream Use:
2019 can is the year in which drones finally become widely accepted in information management. While the technology has been prevalent for a few years, a drone's capabilities are yet to be fully realized. An understanding of drone technology is the key, and startups and smaller companies are taking the lead in demonstrating how it can be done.
In 2019, it has been expected that more organizations with AI-driven programs will make full use of drone capabilities. Only then will come the next phase of automation in analyzing the data. Implementation of AI to automatically recognize characteristics of imagery, or physical features such as spectrum analysis or measurements, will take the technology to the next level with its algorithms.
Drone Technology as a Holistic Solution:
Drones are starting to take a larger role in mapping out a holistic picture built from multiple data sources, which is expected to continue into 2019. However, it is important to remember that the solution is not always about the drone. To accomplish use cases, information from a combination of ground-based images and manned aerial vehicle footages needs to be considered first. By aggregating the images, people and companies will take drone information and aerial mapping of multiple data sources to the next level.
See Also:
Top Drone Technology Solution Companies
Top Drone Tech Consulting Companies